Space Foundation News
---
PIONEERING Report Announcement Held in Washington, D.C.
Written by: developer
The Space Foundation released its PIONEERING: Sustaining U.S. Leadership in Space report at a briefing event in Washington, D.C., on Dec. 4.
Held at the Senate Russell Building, the briefing was attended by 60 industry and government representative and reporters, including representative of multiple nations. The event featured opening remarks by Space Foundation Vice President - Washington Operations Brendan Curry. Read Curry's editorial on the preparation of the report in the current issue of Space Watch here.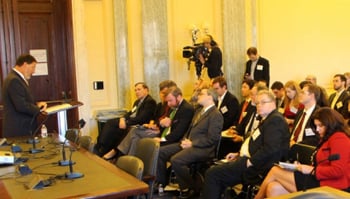 Space Foundation Chief Executive Officer Elliot Pulham gave an overview of the NASA report and fielded questions from the audience and reporters.
Read the initial media coverage:
FloridaToday.com, click here.
Space.com, click here.
AolGovernment, click here.
---
Posted in Space Foundation News