Public Policy and Government Affairs
---
Read/See Media Coverage of Space Foundation PIONEERING Report
Written by: developer
The Space Foundation's release of PIONEERING: Sustaining U.S. Leadership in Space last month was covered by a broad range of media. The see a sampling of articles and news clips, click here.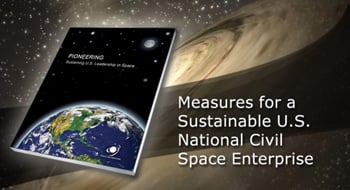 Held at the Senate Russell Building, the briefing was attended by 60 industry and government representative and reporters, including representative of multiple nations. The event featured opening remarks by Space Foundation Vice President – Washington Operations Brendan Curry. Space Foundation Chief Executive Officer Elliot Pulham gave an overview of the NASA report and fielded questions from the audience and reporters.
You can download a copy of the report and/or the executive summary here.
And, you can hear Pulham discuss the report on Jan. 11 from 10:30-noon MST on the radio on The Space Show®. For more information, click here.
We invite everyone to send thoughts to the Space Foundation at [email protected] or via social media (Twitter hashtag: #pioneerspace). The more voices, the better.
This article is part of Space Watch: January 2013 (Volume: 12, Issue: 1).
---
Posted in Public Policy and Government Affairs