Space Foundation News
---
Acquisition Luncheon Features Gen. Teague
Written by: developer
Michael C. Gass, president and chief executive officer, United Launch Alliance (ULA), was corporate host of the Space Symposium's Acquisition Luncheon which was co-sponsored by ULA. He introduced featured speaker, Brig. Gen. Roger W. Teague, USAF, director, strategic plans, programs and analyses, Air Force Space Command.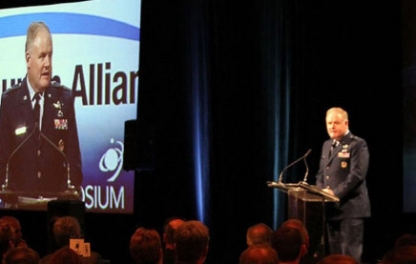 Teague began, "We're reminded that the world is still a very dangerous place. The cyber threat is literally everywhere."
He explained that space systems are foundational to modern society and the global space economy has grown 37 percent in recent years.
"Our forces must continue to improve in capability," he continued. "Modernization must remain a priority"
He said domain is driven by ways to improve resiliency, flexibility and affordability, and because costs are such a factor, there is a need to examine multiple opportunities to get to space.
He said costs can be reduced through improving governance, reducing staffing, tackling production contract costs and event by event examination.
For the future, he advised, we must not forget our commitment to the warfighter, affordable space systems and the need to drive vision through architectural planning.
See More
See the video here.
See photos here.
---
Posted in Space Foundation News