Space Foundation News
---
Long Term Sustainability of Space on the Agenda
Written by: developer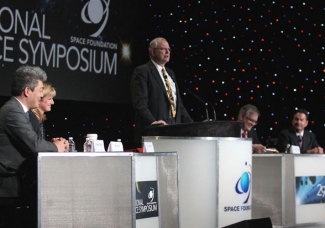 A topic of interest at the Space Foundation's
 29th National Space Symposium 
was the panel discussion
 Long Term Sustainability of Space - Practices for the Future.
The panel covered talking points on affordability and policy reform in commercial and government space industry.
The partnership between the government and private entities was said to be key for long term processes.
Moderated by Michael K. Simpson, Ph.D., executive director, Secure World Foundation, the panel comprised:
Ambassador Jacek Bylica, principal adviser and special envoy for non-proliferation and disarmament, European External Action Service, European Union
Kay Sears, president, Intelsat General
James (Jim) S. Simpson, vice president of business development, Boeing Space and Intelligence Systems
Kazuto Suzuki, Ph.D., professor of international political economy, Hokkaido University
Highlights
Simpson presented slides detailing the economics of space and how to make it more affordable.
Suzuki pointed out that the U.S. is "by far the biggest user of space." He said that Japan and Australia are taking the initiative in organzing discussions among Asian countries on the future use of space.
Sears stated that "other important factors of sustainability include continuity of service, safety of flight."
Bylica's presentation detailed the European Union Initiative for a Code of Conduct on Outer Space Activities.
See More
See video of the discussion here.
See photos here.
---
Posted in Space Foundation News