Space Foundation News
---
Saturday is World Oceans Day at the Space Foundation Discovery Center
Written by: developer
The public is invited to visit the new Space Foundation Discovery Center this summer for 10 weeks of educational space activities appropriate for all ages.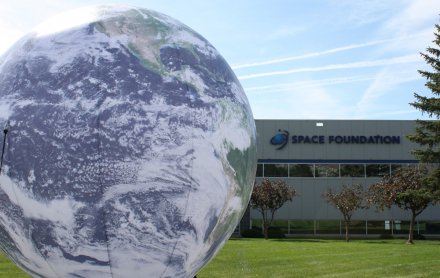 Each week will focus on a specific theme, culminating with a full day of special activities each Saturday, included in the price of the Saturday admission.
This week's theme is "Oceans of the Universe" with activities celebrating World Oceans Day on Saturday, June 8, included in the price of Saturday admission:
Underwater robotics with remotely operated vehicles (ROVs) similar to the ones used to train astronauts
Squid dissection activity, "You've Got Guts." See for yourself what's inside these small ocean creatures!
"Fossils of the Deep," children will enjoy digging for fossils and shells
An exhibit (pictured) comparing SCUBA equipment with astronaut EMU suits (extravehicular mobility unit)
Science On a Sphere® demonstrations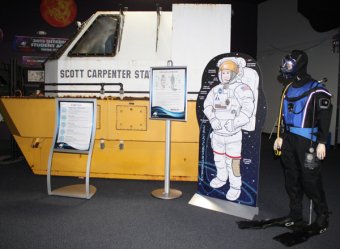 There will also be special presentations at 1:00 p.m. and at 3:00 p.m. — the Scott Carpenter Space Analog Station Live Feed with Dr. Rosalind Grymes. Her specialty is sustainability initiatives at NASA Ames Research Center.
Small Fry Reading Corner Guest Readers
For young children, the June 8 activities will include crafts, balloon art, face painting and story time in the Small Fry Reading Corner.
Children can learn about oceans in the Small Fry Reading Corner, with guest readings at the following times:
10:00 a.m. – Laura Neumann, chief of staff, City of Colorado Springs
10:30 a.m. – Brian Burnett, vice chancellor for administration and finance, University of Colorado at Colorado Springs, reading A House for Hermit Crab
11:00 a.m. – Dianne Derby, news anchor, KKTV, reading Danny & Daisy-A Tale of a Dolphin Duo
11:30 a.m. – Sherryl Dillon, board of education vice president, Cheyenne Mountain School District 12, reading Harry Horseshoe Crab – A Tale of Crawly Creatures
12:00 p.m. – Karla Probert, Space Foundation volunteer, Colorado Springs, reading Manfish
12:30 p.m. – Col. Robert J. Kraus, chief scientist and director of research, USAFA, reading One fish, two fish, red fish, blue fish
1:30 p.m. – Col. Robert J. Kraus, reading Mary Manatee-A Tale of Sea Cows
2:00 p.m. – Karla Probert, reading Manfish
2:30 p.m. – Col. Robert J. Kraus, reading Sea Creatures Pop-Up
3:30 p.m. – Julie Howell, marketing project manager, Space Foundation, reading Big Sharks!
4:00 p.m. – Cheryl Ledford, education programs assistant, Space Foundation, reading The Whales Go By
4:30 p.m. – Chrys Rheinbolt, education programs coordinator, Space Foundation, reading Humphrey The Lost Whale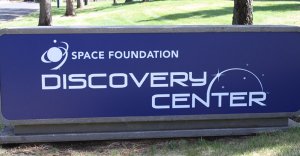 The Space Foundation Discovery Center is the region's only space, science and technology attraction, and is located off Garden of the Gods Road at 4425 Arrowswest Drive, Colorado Springs, Colo. The Discovery Center is open to the public from 10:00 a.m. to 5:00 p.m., Tuesdays through Saturdays, June 4 – Aug. 10.
Daily admission is $9 for adults, $7 for seniors (age 65+), $7 for college students with I.D., $3 for children ages 4-17. Admission is free with military I.D., to children age three years and younger and to holders of the Colorado Springs Together Card.
Find $1 off admission coupons online at www.spacefoundation.org/summer-fun and at local Wendy's this summer.
---
Posted in Space Foundation News