Space Foundation News
---
"Red, White and Blue" at the Discovery Center
Written by: developer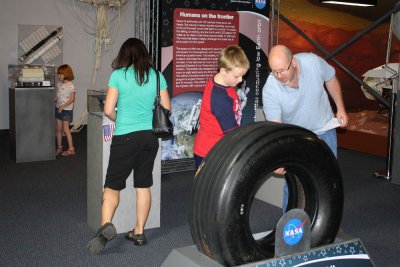 It was "Red, White and Blue" week at the Space Foundation Discovery Center this past week and highlights included the grand opening of a new visiting exhibit from NASA and presentations from several former NASA astronauts.
On Tuesday, July 2, Space Foundation CEO Elliot Pulham kicked off the week with a presentation at the Discovery Center about "America's Changing Role in Space," sharing his insights regarding the future of space exploration.
On Friday, July 5, NASA's first major visiting exhibit was offically opened to the public at the Discovery Center with a special ribbon-cutting ceremony. The ceremony included remarks from Pulham and former NASA astronaut Col. B. Alvin, Drew, USAF, Ret. and a musical performance from Super Power Music Group. The exhibit, "Space Shuttle: Conquering Low Earth Orbit," includes videos, displays and touchable hardware, plus a 13-foot tall, 1:15 scale Space Shuttle full stack model. It is on loan to the Space Foundation from NASA. A Friday afternoon panel presentation followed the ribbon-cutting festivities. Moderated by Livingston Holder, panelists Gen. Howell Estes, III, and Gen. Lance Lord discussed "The History and Importance of Air Force Space Command."
The "Red, White and Blue" celebration culminated at the Discovery Center on Saturday, July 6, with a special presentation from former NASA astronaut Livingston L. Holder, Jr., who gave a presentation called "Confessions of an Unflown Astronaut." He shared details of his schooling, preparation and training to be an astronaut, although he did not get the opportunity to fly into space, and took questions from the audience. 
About the Discovery Center
The Space Foundation Discovery Center is the region's first and only space, science and technology attraction, and is located off Garden of the Gods Road at 4425 Arrowswest Drive, Colorado Springs, Colo. The Discovery Center is open to the public from 10:00 a.m. to 5:00 p.m., Tuesdays through Saturdays.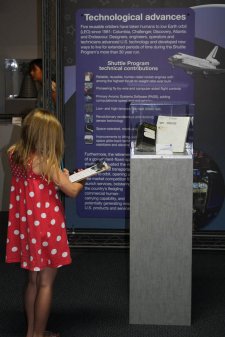 Daily admission is $9 for adults, $7 for seniors (age 65+), $7 for college students with I.D., $3 for children ages 4-17. Children age three years and younger are admitted free.
Admission is free with military I.D., to those affected by Colorado wildfires and to first responders.
The Space Foundation Discovery Center has been designated a collection point for Care and Share Food Bank for Southern Colorado. The public may bring food donations to the Space Foundation Discovery Center between 10:00 a.m. and 5:00 p.m., Mondays through Saturdays. Anyone bringing a food donation will receive a $2 off admission coupon to the Discovery Center.
See photos from the Discovery Center's "Red, White and Blue" week here.
Learn more about the Summer of Discovery here. 
---
Posted in Space Foundation News