Spotlight
---
Discovery Center will be Closed for Thanksgiving Holiday Nov. 28-30
Written by: developer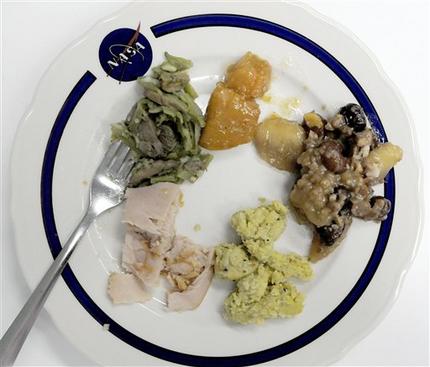 The astronauts onboard the International Space Station (ISS) don't have to miss out on all the traditional holiday food just because they are more than 200 miles up in space. They get to enjoy turkey, as well as all of the traditional sides including cornbread stuffing, mashed potatoes and cobbler for dessert (pictured at left). Of course, it's in a slightly different form, though. Space food is either freeze-dried, which means water needs to be added, or thermostabilized, which means the chemistry of the food has been modified and it travels to the International Space Station (ISS) in a pouch.
This Thanksgiving, there will be three American, two Russian and one Japanese astronaut onboard the ISS. Thanksgiving is not celebrated in Russia or Japan, but ISS crewmembers have always enjoyed celebrating each others' holidays as a way of sharing their culture. This month's Thanksgiving feast will most likely include some Russian and Japanese delights as well.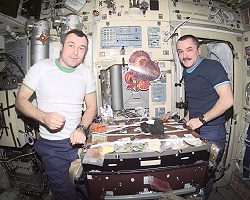 The food astronauts enjoy in space now has come a long way. Click here to read more about the history of space food and the space food display in the Space Foundation Discovery Center in Colorado Springs.
The Discovery Center will be closed Nov. 28-30 in observance of the Thanksgiving holiday. It will reopen on Tuesday, Dec. 3. The Discovery Center will also be closed for a December holiday break beginning Saturday, Dec. 14 and reopening on Thursday, Jan. 2, 2014.
The Discovery Center is the region's only space, science and technology attraction, and is typically open to the public Tuesday – Saturday, 10:00 a.m. – 5:00 p.m., at 4425 Arrowswest Dr., Colorado Springs, Colo. Discovery Center daily admission fees are $9 for adults, $7 for seniors (age 65+), $7 for college students with I.D., $3 for children ages 4-17. Military fees are $4.50 for adults with I.D., and $1.50 for children ages 4-17. Children age three years and younger are admitted free. Learn more about the Discvoery Center exhibits and planning your visit here.
This article is part of Space Watch: November 2013 (Volume: 12, Issue: 11).
---
Posted in Spotlight