Space Foundation News
---
Space Foundation Update from UNCOPUOS
Written by: developer
Steve Eisenhart, Space Foundation Senior Vice President-Strategic and International Affairs, is participating in the 57th Meeting of the United Nations Committee on the Peaceful Use of Outer Space (UNCOPUOS) as a private sector advisor to the United States delegation.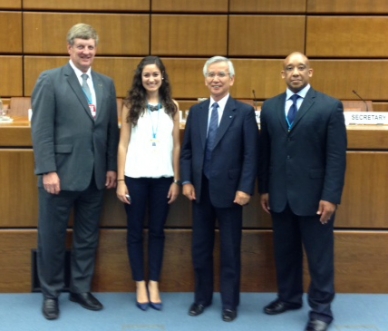 The meeting is being conducted at UN City Vienna, June 11-20, with reports from the Scientific and Technical Sub-committee and Legal Subcommittee, space and sustainable development, spin-off benefits of space technology, space and water, space and climate change, the use of space technology in the United Nations system and the future role of the Committee.
While in Vienna, Eisenhart also attended a meeting of the advisory board of the Space Generation Advisory Council (SGAC), where the board was briefed by SGAC leadership on various activities including the 3rd Annual Fusion Forum, plans for the upcoming Space Generation Congress, the status of the hiring of a Deputy Executive DIrector and financial status of the organization.
Pictured from left: Steve Eisenhart; Andrea Jaime, director SGAC; Dr. Yasushi Horikawa, former chairman, UNCOPUOS; J.R. Edwards, Lockheed Martin Manager of Human Space Flight Programs Washington Operations
---
Posted in Space Foundation News