Space Foundation Press Releases
---
Dr. Neil deGrasse Tyson will Answer Your Questions at Summer of Discovery "Astronomy" Google Hangouts Chat
Written by: developer
COLORADO SPRINGS, Colo. (June 19, 2014) — If you've ever wished you could ask a question of astrophysicist Dr. Neil deGrasse Tyson about the mysteries of our universe, the Space Foundation is providing that opportunity. On Wednesday, June 25, at 6:00 p.m., come to the Space Foundation Discovery Center in Colorado Springs for a Google Hangouts live video call with Dr. Tyson. The event is part of the Space Foundation's astronomy-themed activities during its Summer of Discovery.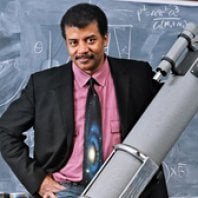 Tyson is host of Cosmos: A Spacetime Odyssey and is also the Frederick P. Rose Director of New York's Hayden Planetarium. He is the best-selling author of books such as Death by Black Hole: And Other Cosmic Quandaries and The Pluto Files: The Rise and Fall of America's Favorite Planet. Tyson is the go-to person for newscasters and talk show hosts when a cosmic phenomenon needs explaining.   
The fee for Tyson's Google Hangouts video chat is $3.00 per person, plus admission to the Discovery Center, which is: $9 for adults, $7 for seniors (age 65+), $7 for college students with I.D., $3 for children ages 4-17. Military fees are $4.50 for adults with I.D., and $1.50 for children ages 4-17. Children age three years and younger are admitted free.
Astronomy-themed daily activities at the Discovery Center June 24 – 28 include:
FREE Make-Your-Own-Solar-System Sticker set for the first 25 paid children admitted each Tuesday through Friday and first 100 paid children admitted on Saturday (age 4-17 only, includes Discovery Passport holders)
"Spacesuit Photo Fun" (pictured, $3 extra fee)
Science On a Sphere® Presentations Astronomy Apps Presentations (iPhone and Android)
Bounce House
Mars Robotics Laboratory Presentations – 11:00 a.m., 1:00 p.m. and 3:00 p.m. (pictured)
Astronomy-themed Crafts

Make-Your-Own Telescope
Astronomy Coloring Pages
Constellation Station – make your own necklace, bracelet or keychain ($3 extra fee)
Craft Table

Star Chart or Astronaut Window (available Tuesday-Friday)
Space-themed Door Knob Decor or Make-A-UFO (available Saturday)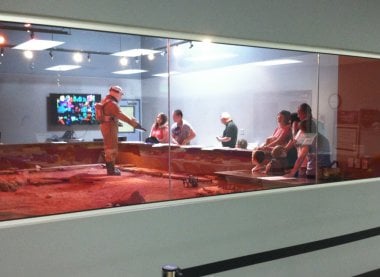 Register to win one of these great prizes:
Tickets for the Rio Grande Railroad Starlight Express
Gift Certificate for the Name A Star Registry 
Tickets to the Space Foundation's 3rd Annual Space & Science Fiction Costume Ball
Drawing to be held Saturday, June 28 at 4:00 p.m., need not be present to win
Wednesday, June 25
3:00 – 5:00 p.m. – Showing of Cosmos: A Spacetime Odyssey (Fox television show)
6:00 – 6:30 p.m. – Google Hangouts video chat with Dr. Neil DeGrasse Tyson ($3 extra fee per person)
Friday, June 27
11:00 a.m. – 2:00 p.m. and 5:00 – 7:30 p.m.- Sabrosos Tacos Food Truck
6:00 p.m. – Presentation with Dr. Devin J. Della-Rose: "Exoplanet Research & Discoveries from the Last Two Decades"
8:00 p.m. – Star Gazing with Southern Colorado Astronomical Society 
Saturday, June 28
11:00 a.m. – 2:00 p.m. – Sabrosos Tacos Food Truck
11:00 a.m. – 1:00 p.m. – Solar Gazing with Southern Colorado Astronomical Society
4:00 p.m. – Prize Drawing (see details above)
Please see our website for further details at www.spacefoundation.org/events/summer-discovery. Activities are subject to change.
Thank you to our "Astronomy" sponsor Ent Federal Credit Union.
Other Summer of Discovery themes include:
Astronomy, part 2, July 1 – 3 (the Discovery Center will be closed July 4 and 5)
Mars, Rovers & Robots, July 8 – 12, July 15 – 19
Rocketry, July 22 – 26, July 29 – Aug. 2
A Taste of Space Technology, Aug. 5 – 9, Aug. 12 – 16
About the Discovery Center and the Summer of Discovery
The Space Foundation Discovery Center is located off of Garden of the Gods Road at 4425 Arrowswest Drive, and is the region's first and only space, science and technology attraction.
Summer of Discovery 2014 continues weekly through Aug. 16, offering 10 full weeks of space-related educational activities. Each two-week theme culminates in an action-packed Saturday of special activities.
The Discovery Center is open Tuesday through Saturday, 10:00 a.m. – 5:00 p.m., with occasional evening events. The Discovery Center is closed on Sunday and Monday and on holidays. For general information about the Discovery Center, call 719.576.8000, or visit www.spacefoundation.org/museum.
Discovery Passport
Unlimited admission to the Discovery Center is now available with a Discovery Passport. Family, Individual and Student Passports may be purchased online and are good for 12 months from the date of purchase. Passports may be used for admission to Summer of Discovery (but not for extra-fee activities). Member benefits include a 10 percent discount on Discovery Center Store merchandise and members-only sneak previews of new exhibits. Learn more by visiting www.spacefoundation.org/events/summer-discovery-2014.
About the Space Foundation
Founded in 1983, the Space Foundation is the foremost advocate for all sectors of space, and is a global, nonprofit leader in space awareness activities, educational programs and major industry events, including the annual Space Symposium, all in support of its mission "to advance space-related endeavors to inspire, enable and propel humanity." Space Foundation world headquarters in Colorado Springs, Colo., features a public Discovery Center including the El Pomar Space Gallery and the Northrop Grumman Science Center featuring Science On a Sphere®, and is a member of the American Alliance of Museums. The Space Foundation has a field office in Houston, and from its Washington, D.C., office, conducts government affairs, publishes The Space Report: The Authoritative Guide to Global Space Activity and provides three indexes that track daily U.S. stock market performance of the space industry. Through its Space Certification™ and Space Technology Hall of Fame® programs, the Space Foundation recognizes space-based technologies and innovations that have been adapted to improve life on Earth. Visit www.SpaceFoundation.org, follow us on Facebook, LinkedIn, Pinterest and Twitter, and read our e-newsletter Space Watch.
# # # 
---
Posted in Space Foundation Press Releases