Space Foundation News
---
"Oceans" Theme Successfully Kicks Off Summer of Discovery 2014
Written by: developer
Summer of Discovery 2014 is well under way at the Discovery Center and has already attracted enthusiastic children, families and many summer day camp and daycare groups.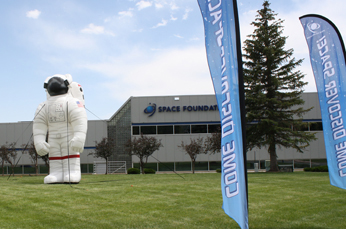 The Space Foundation Discovery Center is the region's only space, science and technology attraction, and is located at 4425 Arrowswest Drive in Colorado Springs, just off of Garden of the Gods Road. The Discovery Center is open Tuesday through Saturday, 10:00 a.m. – 5:00 p.m., and is closed on holidays.
Summer of Discovery includes 10 weeks of space-related educational activities and fun for all ages, comprised of five two-week segments, each focusing on a specific theme, culminating with a full day of special activities each Saturday.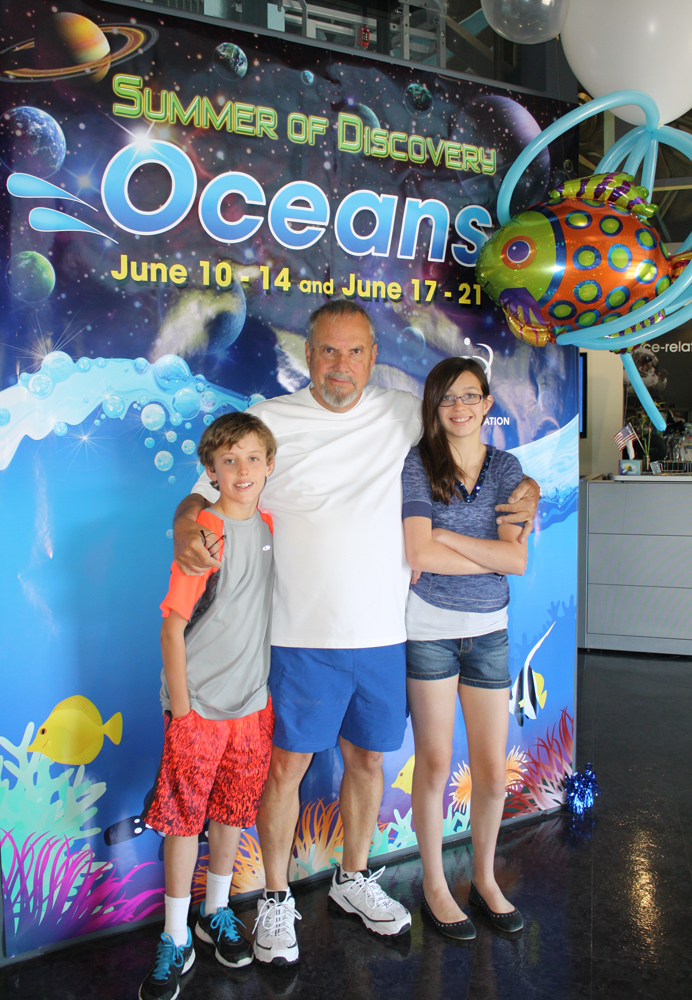 Effective July 1, Discovery Center daily admission fees are $10 for adults, $7.50 for seniors (age 65+), $7.50 for college students with I.D., $4.50 for children ages 4-17. Military fees are $5.00 for adults with I.D., and $4.00 for children ages 4-17. Children age three years and younger are admitted free.
Summer of Discovery kicked off on June 10 with the "Oceans" theme. Highlights during this initial two weeks included:
Squid dissection – always popular with young and old alike
Underwater Junk Engineering – participants were tasked with designing and building an underwater habitat by re-using and recycling "junk" materials such as plastic bottles, containers, cardboard and Styrofoam
Underwater ROVs – remotely operated vehicles similar to ones used to train astronauts
Crafts – children kept busy making coffee filter jellyfish and their own Ocean-in-a-Bottle, among other crafty activities
Minecraft games in the AGI Space Missions Simulation Laboratory
Presentations in the Mars Robotics Laboratory
Science On a Sphere® presentations
As an added attraction to the conclusion of the "Oceans" theme, visitors were offered special SphereCasts with the Aquarium of the Pacific (AOP). A SphereCast is a Science On a Sphere presentation done simultaneously at multiple sites by a single presenter, via the Internet. Each SphereCast lasted 20-30 minutes and allowed the guests to not only see the AOP presenter, but to also ask questions.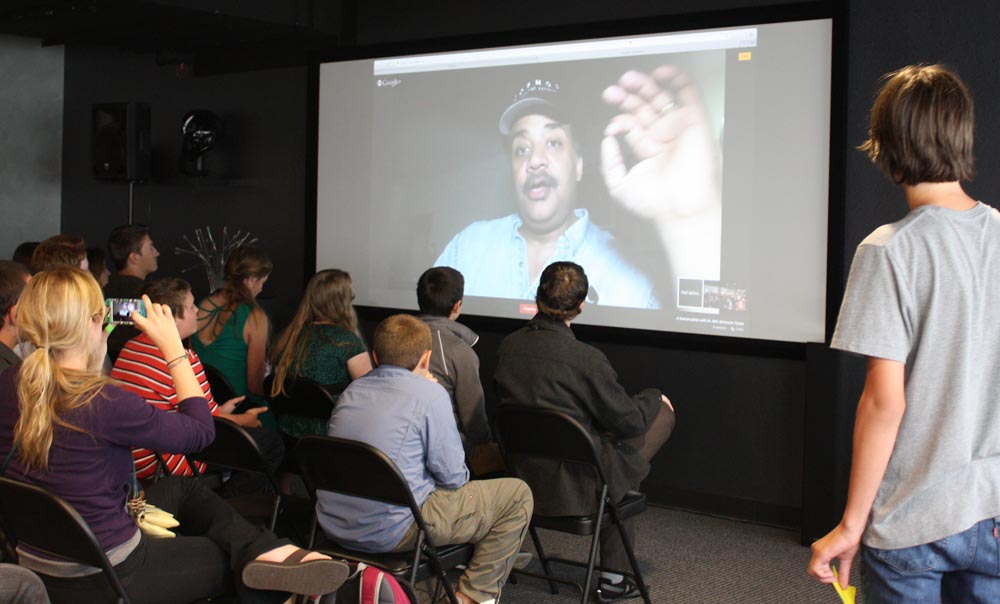 The last week of June brought the start of the two-week "Astronomy" theme for Summer of Discovery. Highlights included:
A live Google Hangouts chat with Dr. Neil deGrasse Tyson (pictured at right – 13-year-old Hunter Parkhill asks Dr. Tyson a question about wormholes)
Presentation by Dr. Devin J. Della-Rose of the Department of Physics, United States Air Force Academy
Solar and star gazing with the Southern Colorado Astronomical Society
Coming up in July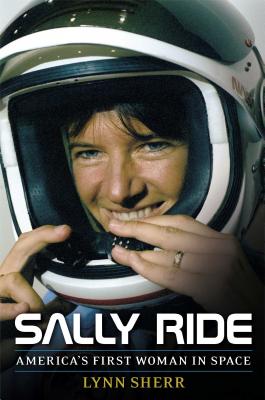 On Wednesday, July 23, at the Discovery Center, veteran ABC News and 20/20 reporter Lynn Sherr will sign autographs for her newly released book Sally Ride: America's First Woman in Space. This definitive biography examines both the public and private life of Dr. Sally Ride, including exclusive insights from Ride's family and partner. Sherr was the ABC reporter who covered NASA during its transformation from a test-pilot boys' club to a more inclusive elite.
The book has been receiving rave reviews, including this from Andrew Chaikin, space journalist and author of A Man on the Moon:
"As an astronaut who became an icon, Sally Ride was an inspiration to millions. But as Lynn Sherr documents in this candid, thorough, and touching portrait, she was also an explorer of life. I'm grateful to Lynn for revealing the Sally I never knew, and for filling an important gap in the literature of the U.S. space program."
The July 23 event will include a public talk by Sherr, along with a Q&A and a book signing. In conjunction with the event, the Space Foundation will host a girls STEM day as part of its Summer of Discovery programming, offering activities to spark girls' interest in science, technology, engineering and mathematics (STEM).
Check the Summer of Discovery website for more details to come.
Summer of Discovery continues into August with the following themes:
Astronomy, July 1 – 3 (the Space Foundation Discovery Center will be closed July 4 and 5)
Mars, Rovers & Robots, July 8 – 19
Rocketry, July 22 – August 2
A Taste of Space Technology, Aug. 5 – 9 and Aug. 12 – 16
For a complete schedule of activities for each theme, click here.
Summer of Discovery Sponsors
Wells Fargo was the Saturday Sponsor for Oceans on June 14 and 21. Other sponsors for Summer of Discovery 2014 include: Ent Federal Credit Union, Astronomy theme sponsor; BKD, July 19 Saturday sponsor for Mars, Rovers and Robots; Allegra, printing co-sponsor; ATK, printing co-sponsor; MIDO Printing Company, Inc., printing co-sponsor; OneTouchPoint, printing co-sponsor; SpaceUnited, activity co-sponsor; and Wendy's, activity co-sponsor.
Sponsorship opportunities for Summer of Discovery 2014 are still available for businesses, organizations and individuals. To learn about the different levels and benefits of sponsorship, click here.
See more photos from the Summer of Discovery 2014 here.
This article is part of Space Watch: July 2014 (Volume: 13, Issue: 7).
---
Posted in Space Foundation News