Second View
---
Space Inspired: by Steve Eisenhart, Space Foundation Senior Vice President – Strategic & International Affairs
Written by: developer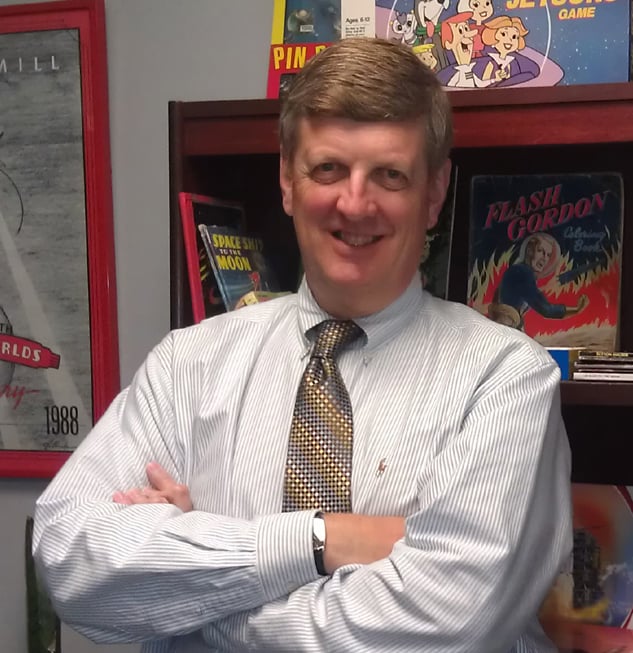 I think it was the kid in the orange flight suit with his helmet on and face mask down. Standing in line ahead of me at the entrance to the Atlantis exhibit at Kennedy Space Center Visitors Center, he epitomized why we all love our business and what is so cool about it. It was great to be exposed to it again so clearly.
I was fortunate last month to get a double dose. Traveling to Florida to participate in our site visit to host the 68th International Astronautical Congress, I was privileged to join a special behind-the-scenes tour of all the exciting activities going on at Kennedy Space Center (KSC). We went inside renovations of facilities to adapt to requirements for commercial space operations, heard the on-going projections of Center hiring, got the goosebumps being back inside the Vehicle Assembly Building (VAB) and the cold chill back out at the memorial for lost heroes of Apollo. Not everyone gets the opportunity, and I feel truly blessed.
But as I said, I had a double dose. I returned to KSC the next day as a pure tourist with my wife and in-laws. It was terrific. Kudos to Delaware North for what you have done to create an awesome visitor's experience. From the early years exhibit, which gave us many 'do you remember' conversations, to having lunch underneath the Saturn V, it was a joy.
But then it got better. Spoiler Alert for those that have yet had the chance, but the reveal and the display of the Space Shuttle Atlantis is no less than breathtaking. It is truly first class and appropriate for the legendary spacecraft. It puts the program in context and helps us understand the bountiful contributions of the Shuttle program.
I heard a few former astronauts had some fun on the slide, simulating re-entry speed at special pre-opening receptions for the facility, maybe some a bit too much fun. But it was also fun to see my mother-in-law have the same experience, as did dozens of children during our visit.
The visit with an astronaut is a popular treat for guests, and veteran astronaut Jon McBride told his story well and communicated important messages, particularly to the students. The men and women who have flown in space are a unique group, and their willingness to share their experiences with the public is indeed special. The in-laws talked about it all the way back to Orlando, and have since commented a number of times about their visit.
The public's passion for space still shines thru in Florida. An Australian amputee veteran of Afghanistan started questioning me in depth about some technical details on how the tiles adhered to the orbiter. He had seen my Space Foundation shirt and assumed I was a docent. His questions quickly exceeded my expertise, and fortunately we found one of the many space industry retirees who form the core of the docent program. And they are ones who also tell the story of the program in a meaningful way.
So back to the kid in the orange flight suit. I'm sure his experience was inspiring. He made part of mine even more inspiring, too. It's all part of a bright space future. Let's enjoy the ride.

Author's note — Thanks to Frank DiBello, Dale Ketcham and our friends at Space Florida for their arrangements and to KSC veteran Terry White for a terrific behind-the-scenes tour.
This article is part of Space Watch: October 2014 (Volume: 13, Issue: 10).
---
Posted in Second View