Report from Washington, D.C.
---
U.S. Government Updates
Written by: developer
Sept. 11
David Radzanowski was confirmed by the Senate to become NASA's Chief Financial Officer (CFO). Radzanowski served previously as Chief of Staff to NASA Administrator Charles Bolden.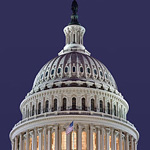 Sept. 18
The Senate passed the FY 2015 Continuing Resolution (CR), funding the Federal government through December 11, 2014, avoiding a government shutdown.
Congress
Congressional members have adjourned to their districts to campaign for the November elections.
Space Foundation Washington, D.C., office
Questions about Public Policy and Government Affairs? Contact us at +1.202.618.3060.
This article is part of Space Watch: October 2014 (Volume: 13, Issue: 10).
---
Posted in Report from Washington, D.C.