Spotlight
---
Meet the Astronauts Who Made Space History at Space Foundation Yuri's Night April 12
Written by: developer
The Space Foundation invites the public to help launch its Space Symposium week in Colorado Springs with an event at the Discovery Center that celebrates the U.S. Space Shuttle program while raising funds for science, technology, engineering and mathematics (STEM) education. Meet the astronauts and former NASA administrators who shaped U.S. history in space.
The global celebration of Yuri's Night recognizes April 12, 1961, the day of cosmonaut Yuri Gagarin's first manned spaceflight, and April 12, 1981, the inaugural launch of NASA's Space Shuttle.
Join us on April 12, 6:00 – 9:00 p.m., at the Space Foundation Discovery Center in Colorado Springs as we celebrate humanity's past, present and future in space. The evening includes presentations by:
Alan Ladwig, former NASA Director of External Communications
Courtney Stadd, former NASA Chief of Staff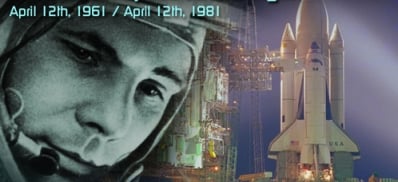 And former NASA astronauts:
Dr. Buzz Aldrin
CAPT Jeffrey Ashby
Leroy Chiao, Ph.D.
Lt. Gen. Susan Helms
Kathryn Thornton, Ph.D.
Enjoy a plate of hors d'oeuvres and a beverage while touring the Space Foundation's collection of space artifacts, all for a good cause. Tickets are $27.50 in advance, $35.00 at the door, and proceeds will benefit scholarships for field trips to the Space Foundation Discovery Center.
The Space Foundation Discovery Center is Colorado Springs' only space, science and technology attraction, located at 4425 Arrowswest Drive, 80907.
See ticket reservation information here.
This article is part of Space Watch: March 2015 (Volume: 14, Issue: 3).
---
Posted in Spotlight