Space Foundation Press Releases
---
"Great Balls of Fire" Headed for Space Foundation Discovery Center
Written by: developer
COLORADO SPRINGS, Colo. (April 27, 2015) - Are meteorites a threat to our planet? Find out next month at the Space Foundation Discovery Center in Colorado Springs.
"Great Balls of Fire: Comets, Asteroids, and Meteors" is a national traveling exhibit coming to the Discovery Center for a limited time and opening to the public on Tuesday, May 19.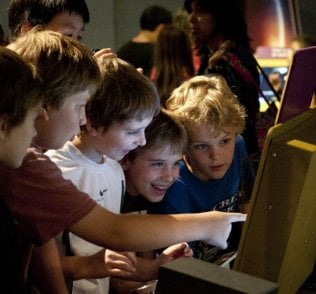 This spectacular exhibit details the origins and study of asteroids, comets and meteors, and examines potential threats to our planet. While it is unlikely for Earth to be struck by one of these celestial bodies, it is important to detect and understand them as the building blocks of our planetary system.
The "Great Balls of Fire" exhibit is on loan from the Space Science Institute in Boulder, and is included in the price of admission to the Discovery Center.
A special sneak preview will be available to Space Foundation Discovery Center Passport members. Learn how to become a passport member at www.spacefoundation.org/museum.
About the Space Foundation Discovery Center
The Space Foundation Discovery Center is the region's only space, science and technology attraction, and is located at 4425 Arrowswest Drive in Colorado Springs, just off of Garden of the Gods Road. Current school year hours are Tuesday through Saturday, 10:00 a.m. - 5:00 p.m. Summer hours, effective June 1, will be Monday through Saturday, 10:00 a.m. - 5:00 p.m.
Discovery Center daily admission fees are $10 for adults, $7.50 for seniors (age 65+), $7.50 for college students with I.D., $4.50 for children ages 4-17. Children age three years and younger are admitted free. Military rates are $5.00 for adults with I.D., and $4.00 for military children ages 4-17 with I.D. Military includes active duty, guard, reserve or retiree with I.D.
About the Space Foundation
Founded in 1983, the Space Foundation is the foremost advocate for all sectors of space, and is a global, nonprofit leader in space awareness activities, educational programs and major industry events, including the annual Space Symposium, in support of its mission "to advance space-related endeavors to inspire, enable and propel humanity." Space Foundation World Headquarters in Colorado Springs, Colo., USA, has a public Discovery Center, including El Pomar Space Gallery, Northrop Grumman Science Center featuring Science On a Sphere® and the Lockheed Martin Space Education Center. The Space Foundation has a field office in Houston and conducts government affairs from its Washington, D.C., office. It annually publishes The Space Report: The Authoritative Guide to Global Space Activity, and through its Space CertificationTM and Space Technology Hall of Fame® programs, recognizes space-based innovations that have been adapted to improve life on Earth. Visit www.SpaceFoundation.org, follow us on Facebook, Instagram, LinkedIn, Pinterest, Twitter and YouTube, and read our e-newsletter Space Watch.
---
Posted in Space Foundation Press Releases