Education
---
Dr. Leroy Chiao Tells Students "Follow your Dreams!"
Written by: developer
As the Space Foundation's Special Advisor – Human Spaceflight, former NASA astronaut Leroy Chiao, Ph.D., inspires children across the country and around the world to pursue careers in space and science.
Through the Space Foundation's Audience With an Astronaut™ program, Chiao gives students the opportunity to learn first-hand what it takes to become a space explorer. The presentations are delivered in person at schools across the country and also virtually to students around the world, such as his July 18 presentation to more than a thousand students at several schools in India. His talk was delivered from the Space Foundation Headquarters and Discovery Center in Colorado Springs via the Internet, and the students in India (pictured) were able to interact with Dr. Chio and ask questions.
Growing up, Chiao was inspired by the Apollo program to pursue a career in space. Today, he shares his experiences in space with young people to encourage their interest in science, technology, engineering and math (STEM).
During his NASA career, Chiao's Space Shuttle missions included:
STS-92 Discovery, 2000
STS-72 Endeavour, 1996
STS-65 Columbia, 1994
In addition, he flew as Flight Engineer 1 aboard Soyuz TMA-5 to the ISS, where he served as commander and NASA science officer during Expedition 10.
While in Colorado Springs, Chiao met visitors at the Discovery Center, gave autographs and posed for photos. He also conducted interviews with several local TV stations, spreading his message to students of all ages, "Study hard and follow your dreams!"
Pictured below: Colorado Springs TV interview with Dr. Leroy Chiao in the Space Foundation Discovery Center's Mars Robotics Laboratory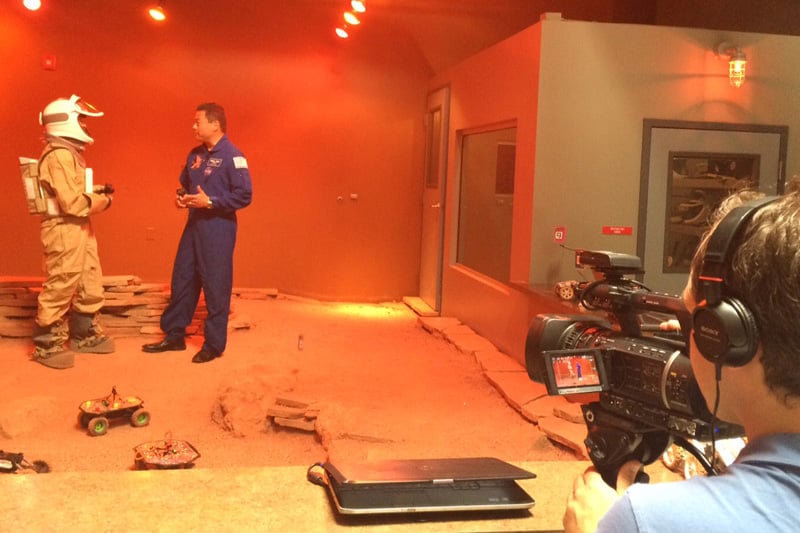 This article is part of Space Watch: August 2015 (Volume: 14, Issue: 8).
---
Posted in Education