Space Symposium
---
Sponsorship Opportunities Available for 32nd Space Symposium
Written by: developer
Strengthening name recognition, increasing brand awareness and gaining enhanced visibility among the civil, commercial and national security sectors of the space industry are just some of the benefits that our sponsors achieve time and time again at the Space Symposium. The Space Foundation is pleased to offer sponsorship opportunities that will drive more traffic to your booth and website, provide unprecedented exposure and secure your status as a space industry front runner.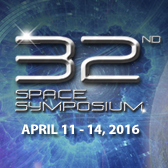 The following are just a few of the benefits your organization will receive as a co-sponsor of an event or collateral item at the Space Symposium:
Early exposure on the Space Symposium website and in Space Watch, the monthly e-newsletter
Corporate recognition in press releases and event marketing collateral
Onsite visibility among key decision-makers and influential industry leaders
Relationship building with new and old customers
Opening of new avenues of communication with prospective clients
Networking and meeting opportunities with aerospace, military and government leaders, and industry entrepreneurs
For 2016, Lockheed Martin will sponsor the 32nd Space Symposium exhibit Center and Pavillion, featuring more than 160 displays of the world's latest space technology, products and services.
Other 32nd Space Symposium co-sponsors include:
a.i. solutions; Arianespace, Inc.; ASRC Federal; Colorado Space Coalition; Intelsat General Corporation; Northrop Grumman; Raytheon; Scitor Corporation; SES Government Solutions; Stellar Solutions; United Launch Alliance (ULA). Aviation Week and Space News are official media partners.
See the list of available Space Symposium sponsorship opportunities here.
For more information regarding sponsorship opportunities for the 32nd Space Symposium, or to discuss a customized sponsorship package, please contact [email protected] or +1.719.576.8000.
This article is part of Space Watch: December 2015 (Volume: 14, Issue: 12).
---
Posted in Space Symposium