Education
---
Space in the Community Program Supports STEM Education and Workforce Development
Written by: developer
The Space Foundation is working to build the next generation of space and community leaders through teacher, student and community programs that use space themes to spark students' interest in science, technology, engineering and mathematics (STEM).
The Space Foundation's Space in the Community program was created to support a community approach to inspiring students' interest in STEM-based careers, and to help all members of a community discover how interest in space can bring the community together.
Space in the Community includes presentations by former NASA astronauts sharing their first-hand experiences in space with schools and community groups through the Space Foundation's Audience with an Astronaut™ program.
In February, the Space Foundation is taking the program to Boulder, Colo. Former NASA astronaut Dr. Leroy Chiao will visit nine schools in Boulder, and the students attending the presentations will have the opportunity to ask questions of Dr. Chiao (pictured) and hear his message, "Dream big, make a plan, and work hard. Do this for everything in your life."
The Boulder Space in the Community program was organized by Kristina Stem, Erie Elementary School STEM Coordinator/Science Lab Instructor, and co-sponsored by Amgen.
Learn more about scheduling a Space in the Community event in your community here.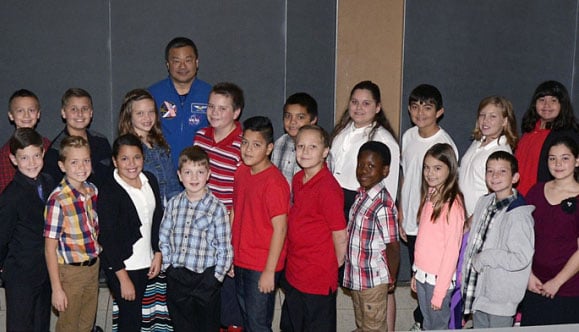 This article is part of Space Watch: January 2016 (Volume: 15, Issue: 1).
---
Posted in Education