Space Foundation News
---
Space Foundation Welcomes New Space Certification Program Partner
Written by: developer
The Space Foundation welcomes its most recent Space Certification Program partner. A sub-licensee of exclusivity partner AFM Heatsheets™, JUNTO LLC is a Philadelphia, Pa., based company that produces KegSheets™.
KegSheets™ are insulating covers that keep kegs cooler longer. They are lightweight, compact, extremely effective, less expensive than other options and easy to use -- they just slide over the keg.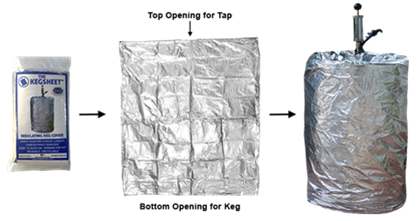 As with the HEATSHEETS™, KegSheets™ cover utilizes NASA radiant barrier technology incorporated into the material design that was developed for the Apollo shuttle program, and has been inducted into the Space Technology Hall of Fame. It reflects up to 90 percent of radiant heat, so even in direct sunlight most heat is reflected away from the keg, keeping out heat.
Under the cover, a layer of air is held in, creating an internal insulating barrier. Temperatures from the keg are protected by this barrier and contained by the cover, keeping cool air in.
Over time, this combination helps slow the transfer of heat from the outside environment to the contents of the keg, resulting in colder beverages longer.
To expand the availability of KegSheets™, the company will soon launch a Kickstarter campaign. For more details, and a direct link to the campaign once it is live, please visit the website at www.kegsheets.com/#wheretobuy.
Learn more about the Space Certification program here.
This article is part of Space Watch: February 2016 (Volume: 15, Issue: 2).
---
Posted in Space Foundation News