Space Technology Hall of Fame
---
How Taylor Devices Seismic Dampers Save Lives
Written by: developer
As a 2015 inductee into the Space Technology Hall of Fame®, Taylor Devices, Inc., has been recognized worldwide for space program innovations that now improve life on Earth — innovations that not only improve life, but in fact save lives.
In the 1960's, Taylor Devices was awarded a NASA contract to develop a system to safely disengage hoses and mechanical gear jettisoned off of launch vehicles. The first motion dampening systems were hydraulic dampers controlled by electronic valves. While this approach safely contained the motion of the gear, the system itself was complex and prone to reliability issues.
Improvements continued, and in 1972 the system controlled swing arms on the Space Shuttle launch platform. Today, this technology is still in use to protect equipment on the International Space Station.
In the 1990's, a commercial application was developed to protect buildings and bridges from the destructive vibrations induced by earthquakes. These seismic dampers proved far more effective than the best stress-relieving technologies used at the time. Today, the technology is successfully defending hundreds of buildings and bridges around the world against the effects of high winds and earthquakes.
More than 22,000 dampers have been installed in nearly 600 structures throughout the world. Some notable installations in the U.S. include the Los Angeles City Hall and the Guggenheim Museum in New York. In addition to protecting buildings, Taylor dampers are also installed on bridges, including the Penobscot Narrows Bridge (pictured below) — not for earthquake protection, but to control the bridge support cables during high wind events.
Today, Taylor Devices, Inc. is the leading manufacturer of shock absorbers, liquid springs, shock isolation systems, seismic isolators, vibration dampers, power plant snubbers and other types of hydro-mechanical energy management products. Learn more about Taylor Devices here.
Learn more about the Space Technology Hall of Fame here. Nominations are currently being accepted for induction in 2017.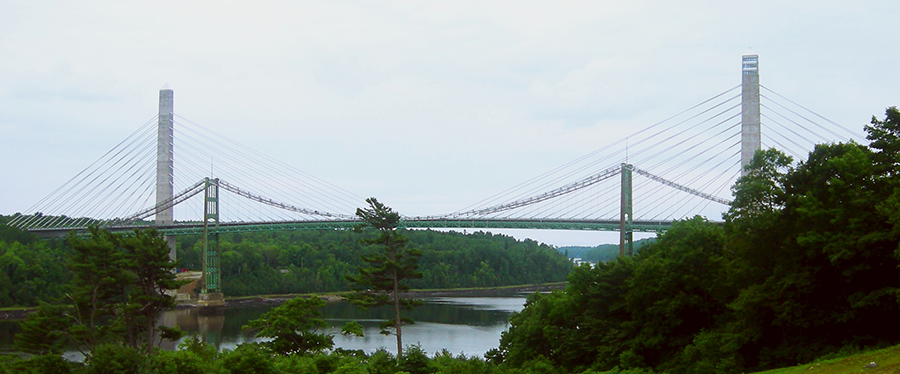 This article is part of Space Watch: June 2016 (Volume: 15, Issue: 6).
---
Posted in Space Technology Hall of Fame