Education
---
Space Foundation Takes Space in the Community to Andersen Air Force Base Naval Base Guam and Los Angeles Air Force Base
Written by: developer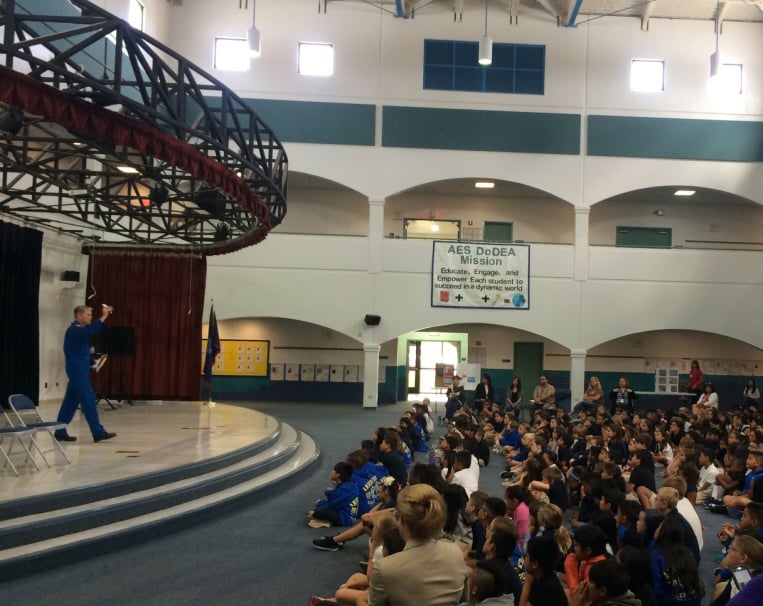 The Space Foundation has been taking its Space in the Community STEM education program to military bases around the world, most recently to Andersen Air Force Base and Naval Base Guam.
In November, the Space Foundation education team will present the program to students at schools on and around Los Angeles Air Force Base.
The goal of Space in the Community is to inspire students to pursue careers in science, technology, engineering and math (STEM).
In Guam, former NASA astronaut Col. Paul S. Lockhart, USAF (Ret.), shared his experiences in space with students at schools on the bases, then Space Foundation education team members led the children in hands-on activities and STEM lessons.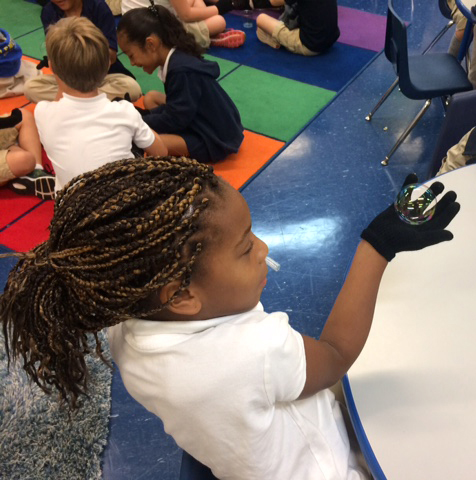 The older students learned basic principles of flight by making and launching straw rockets, and the younger students learned basic scientific observation by making and handling rocks and bubbles (pictured), which taught them the difference between rocky and gas planets.
The Space Foundation education team led a professional development workshop at Andersen Elementary School that was open to all Department of Defense Education Activity (DODEA) Guam educators, to help them incorporate STEM lessons and activities into their classrooms and across the curriculum. The educators shared activities to get students excited about STEM, such as designing, building and launching straw rockets, learning creative ways to teach astronomy through kinesthetic movement and using apps, such as iMovie.
"It was a privilege to work with so many students on both bases who were so well-mannered and eager," said Beth Schwartz, Space Foundation Space Education Specialist. "The faculty and staff were hospitable, supportive, encouraging and enthusiastic, above and beyond what I expected. It is our hope that this visit is the beginning of a long-term relationship between the Space Foundation, the military bases on Guam, and hopefully, in future years, the public schools as well."
The program also included a free community event for the public to help them understand more about Space in the Community and the importance of STEM education for future workforce development. The event was very well attended with more than 100 advance reservations and standing-room-only during the presentation.
The Space in the Community activities in Guam were co-sponsored by the U.S. Air Force and by Air Force STEM, and made possible by the efforts of the Joint Region School Liaison Officer and Naval Base Guam School Liaison Officer, Joint Region Marianas Guam, Andersen Air Force Base, Naval Base Guam, DoDEA Guam Schools and Superintendent.
About Space in the Community
Space in the Community is designed to build partnerships in a community, laying a foundation for a skilled organic workforce and supporting the workforce pipeline for economic development.
The program incorporates the Space Foundation's Audience with an Astronaut program by engaging former NASA astronauts to explain to students how science, technology, engineering and math (STEM) are applied in space. Learn more about Space in the Community, and other Space Foundation STEM education programs, by visiting DiscoverSpace.org.
This article is part of Space Watch: November 2016 (Volume: 15, Issue: 11).
---
Posted in Education