Space Symposium
---
Commissioner Elżbieta Bieńkowska is a Space Symposium Featured Speaker
Written by: developer
An important addition to the Space Foundation's 33rd Space Symposium, is the confirmation of featured speaker Elżbieta Bieńkowska, Commissioner, European Commission.
Since 2014, Bieńkowska has been the European Commissioner for Internal Market, Industry, Entrepreneurship and SMEs at the European Commission. As Commissioner, her responsibilities include reviewing the strategy for completing the single market of goods and services, including extending the list of products to be recognized in all EU countries and eliminating remaining obstacles.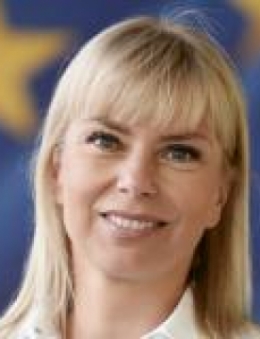 Bieńkowska is also responsible for maintaining and reinforcing a strong and high-performing industrial base for internal market by stimulating investment in new technologies, improving the business environments and easing access to markets and to finance.
Before her role as Commissioner, Bieńkowska was the Deputy Prime Minister and Minister of Infrastructure and Development from 2013 to 2014, the Minister of Regional Development from 2007 to 2013, and was the Director, Regional Development Office – Marshal's Office of Silesia Region from 1999 to 2007. She holds a master's degree in oriental philology from Jagiellonian University, and a post-graduate diploma from the Polish National School of Public Administration.
The 33rd Space Symposium will be held April 3-6, at The Broadmoor in Colorado Springs, Colo., and will bring together leaders of the civil, commercial and defense space sectors from more than 30 spacefaring nations to discuss and shape the future of space.
See registration information, the Symposium agenda and confirmed speakers at www.spacesymposium.org.
Sponsorship
AGI; Boeing; El Pomar; Lockheed Martin; Northrop Grumman; Raytheon; Secure World Foundation; SES Government Solutions; SpaceX; Spincraft; Stellar Solutions; United Launch Alliance (ULA).
This article is part of Space Watch: December 2016 (Volume: 15, Issue: 12).
---
Posted in Space Symposium