Space Symposium
---
New Space Symposium Panel: The Center Directors in a Time of Transition
Written by: developer
The 33rd Space Symposium will address the impact of changes in the U.S. government with a new panel of special interest, "The Center Directors in a Time of Transition."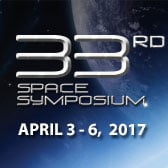 Moderated by Dr. David Livingston, founder and host of "The Space Show," the panelists will include:
Robert D. Cabana, Director, John F. Kennedy Space Center
Janet Kavandi, Ph.D., Director, NASA John H. Glenn Research Center
Todd May, Director, NASA Marshall Space Flight Center
Ellen Ochoa, Ph.D., Director, NASA Johnson Space Center
Michael Watkins, Ph.D., Director, NASA Jet Propulsion Lab
The 33rd Space Symposium will be held April 3-6, at The Broadmoor in Colorado Springs, Colo., and will bring together leaders of the civil, commercial and defense space sectors from more than 30 spacefaring nations to discuss and shape the future of global space.
A discount on standard industry registration is now in effect. See secure online registration, the Symposium agenda and confirmed speakers at www.spacesymposium.org.
Sponsorship
AGI; Boeing; El Pomar; Lockheed Martin; Northrop Grumman; Raytheon; Secure World Foundation; SES Government Solutions; SpaceX; Spincraft; Stellar Solutions; United Launch Alliance (ULA).
This article is part of Space Watch: December 2016 (Volume: 15, Issue: 12).
---
Posted in Space Symposium