Education
---
Taking Space in the Community to Maryland
Written by: developer
Three members of the Space Foundation Education Team took its Space in the Community STEM education program to Charles County Public Schools in Maryland in November. The Space Foundation has a long-standing relationship with the schools in Charles County, and was able to work with students across the county from 3rd grade on up to 12th grade.
The first stop was La Plata High School, where the team worked with Chris Spencer's 9th grade students, teaching about stellar formation and the composition of the universe. Through an engaging game, students estimated the amount of various elements in different phases of a star's life cycle.
The team traveled next to Westlake High School and worked with C.J. Newcomb's students on weather, erosion and possible life on other planets. Mr. Newcomb stated that he had not seen his students more engaged, or asking such deep-level questions, as they had with the Space Foundation educators. The students enjoyed a final activity of creating their own concept of possible alien life on other planets.
The final day included stops at both Theodore G. Davis Middle School and William A. Diggs Elementary School. The middle school students discussed osmosis and its importance in water filtration in space. The students were able to demonstrate their learning by building their own filtration devices. Weather and climate was the topic for the 3rd grade students. By building simple anemometers, the students learned how to measure the wind. Teacher Joe McMahan was so thrilled with the visit, he said, "We have decided to build a large model anemometer so that we can check on wind speed from the classroom!"
Overall, more than 450 students were reached in Charles County. Learn more about Space in the Community here.
Pictured below: La Plata High School teacher Chris Spencer with Space Foundation Space Education Specialists (from left) Keith Barger, Beth Schwartz and Carah Barbarick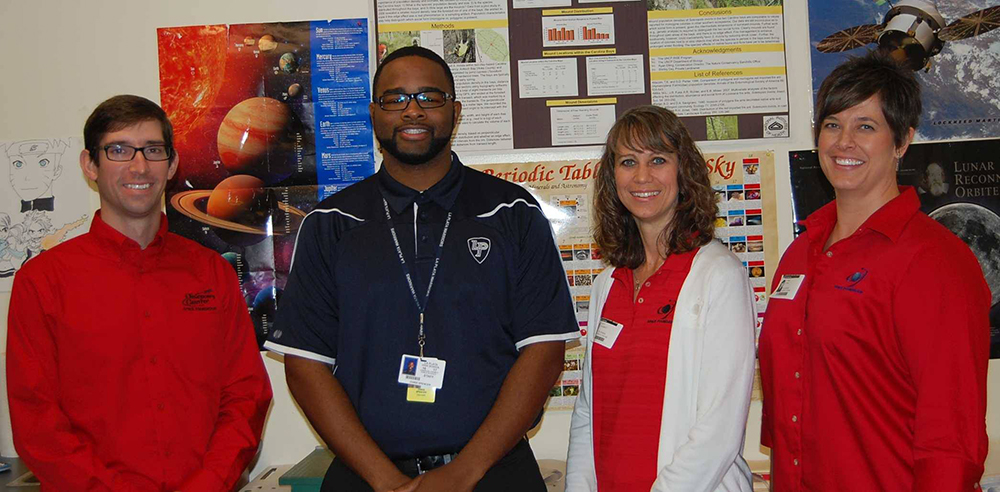 This article is part of Space Watch: December 2016 (Volume: 15, Issue: 12).
---
Posted in Education