Education
---
Space Foundation Leverages Harris Corporation Grant for December STEM Education Program in Brevard County, Florida
Written by: developer
A grant from Harris Corporation (NYSE:HRS) to the Space Foundation was used during December to further science, technology, engineering and mathematics (STEM) studies in several Brevard County, Fla., schools.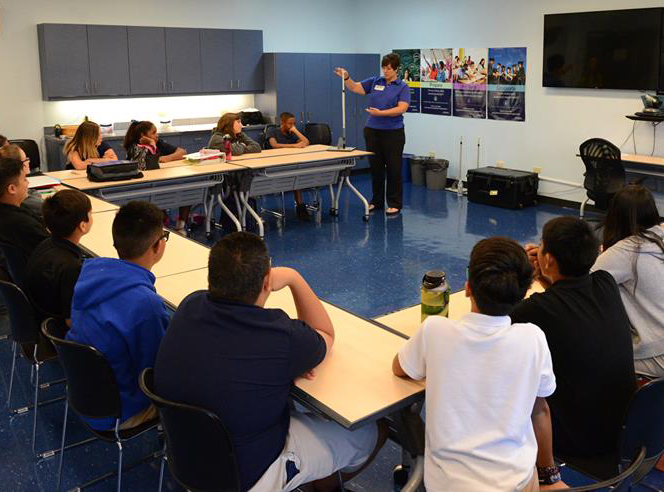 Space Foundation educators led hands-on STEM activities with students at Madison Middle School in Titusville on Dec. 7; Central Middle School in West Melbourne Dec. 8; and Johnson Middle School in Melbourne Dec. 9. The schools also hosted an assembly featuring former NASA astronaut Col. Robert C. Springer, USMC (Ret.). See a local TV report of the program here.
Additionally, the Space Foundation education team led a professional development workshop for 75 middle school STEM teachers at the Harris Global Innovation Center in Melbourne on Dec. 10. The workshop helped teachers incorporate STEM lessons and activities into their classrooms and across the curriculum.
The goal of Harris' collaboration with the Space Foundation was to interest younger students in considering STEM careers and taking courses in high school that will position them to successfully pursue STEM studies in college. In the last 10 years, Harris has dedicated more than $22 million to support STEM education projects and initiatives on the elementary-, middle-, high-school and university levels. Harris employees have volunteered thousands of hours supporting STEM education in Brevard County classrooms and hosted hundreds of students at Harris facilities.
The Space Foundation's Space in the Community program is an immersive program for students and teachers designed to inform and inspire them about space and also reinforce the importance of STEM. It also helps to build a PreK-12 STEM pipeline in communities in order to grow an organic workforce.
The Space Foundation's Space in the Community program can be delivered in any community in the world, allowing a funder to have an impact where its employees live, play and work. The program can be tailored from a menu that includes: astronaut presentations at schools, classroom hands-on activities, teacher professional development workshops and community speaking engagements.
Learn more about Space in the Community here.
This article is part of Space Watch: January 2017 (Volume: 16, Issue: 1).
---
Posted in Education