Spotlight
---
Celebrate the Great American Eclipse!
Written by: developer
Why is everyone making such a big deal about the "Great American Eclipse of 2017?" In short, because it is a big deal. While a total solar eclipse occurs roughly every 18 months, the majority of our planet is made up of large bodies of water, and these other eclipses are usually only viewable from the oceans, or other remote areas of Earth, making them difficult, and rare, to be seen by a large population.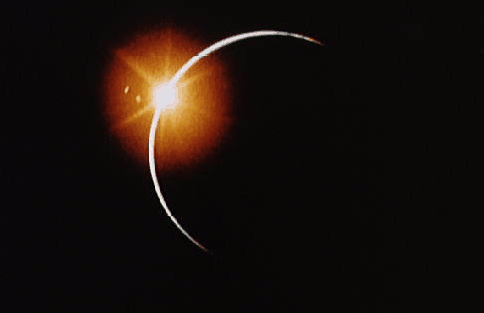 This year's eclipse is special because not only will it occur in a largely populated area, but it will be going from one coast of the United States all the way to the other, and the width of the totality will be about 70 miles.
According to GreatAmericanEclipse.com, about 12.25 million people live in the path of totality, and millions more are within driving distance of the full eclipse, making this a very big deal.
While our home state of Colorado is not in the trail of totality, we are very close, and will see about 90 percent of the sun covered by the moon just before noon on Aug. 21. The amount of sun that shines through at the highest point will be about 3.7 percent of our typical sunshine, similar to the amount of sunshine that Jupiter receives. Temperatures will drop about 10 degrees during the peak of the eclipse. This eclipse will also give scientists a wonderful opportunity to study the corona of the sun, and learn more about the impact the sun has on our home planet.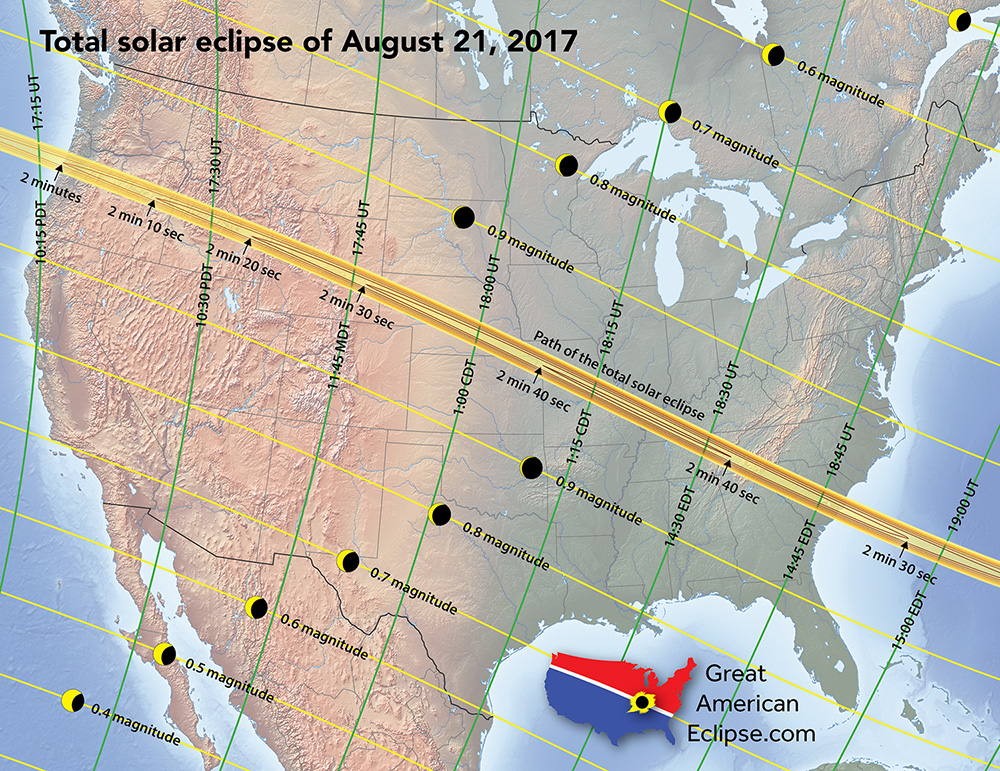 Space Foundation Vice President – Education Bryan DeBates said, "This is an extraordinary, once-in-a-lifetime event for many people. This type of event is extremely rare and can interest and inspire those who don't typically get interested in astronomy. The Space Foundation Discovery Center is excited to host the 2017 Solar Eclipse Party for those in the Colorado Springs area. It will definitely be an experience to remember."
The Solar Eclipse Viewing Party will be Monday, Aug. 21, beginning at 9:00 a.m. and wrapping up at 2:00 p.m. All outdoor activities at the Discovery Center on Aug. 21 will be free of charge. Solar viewing telescopes, tubes and boxes will be available for the public to use, as well as a live feed of the eclipse from locations in the path of totality. Solar viewing glasses have already gone on sale in the Discovery Center Store.
The Discovery Center is not typically open on Mondays, but will be open on Aug. 21, from 9:00 a.m. to 2:00 p.m., with the usual admission fees for indoor activities. Learn more about our Solar Eclipse Party here.
The next time we will be able to experience a total solar eclipse won't be until 2045, so save the date now for Monday, Aug. 21, and experience this phenomenal astrological event!
Please remember – NEVER LOOK DIRECTLY AT THE SUN! Looking at the sun without special protective glasses can cause severe damage and blindness.
Follow the conversation on social media using the hashtag #EclipseDiscovery.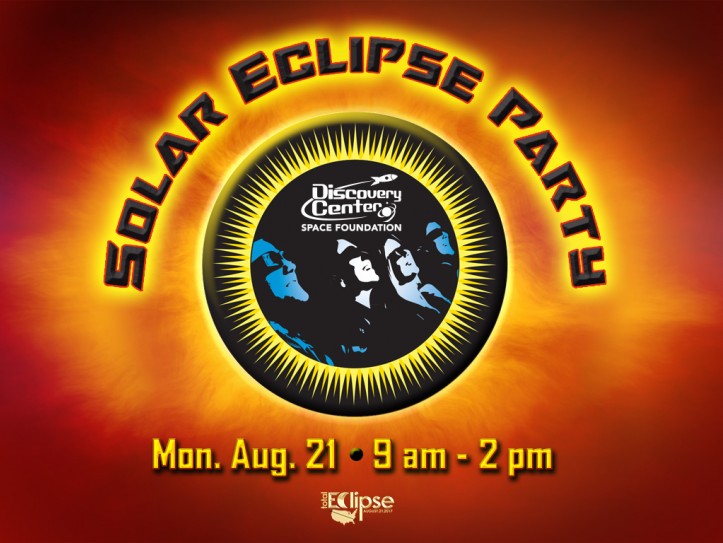 This article is part of Space Watch: July 2017 (Volume: 16, Issue: 7).
---
Posted in Spotlight