Public Policy and Government Affairs
---
Biweekly Washington, D.C., Update for the Week Ending August 21, 2020
Written by: Hanh Le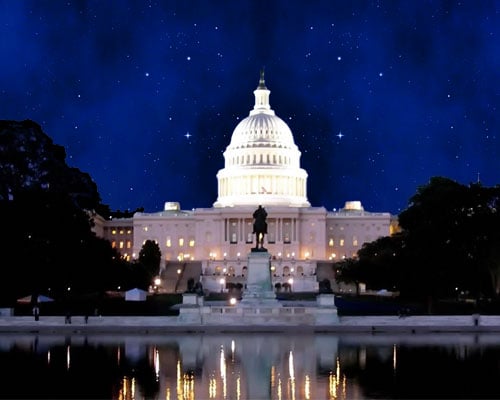 Announcing New 36th Space Symposium Dates and Introducing Space Symposium 365
The 36th Space Symposium to Be Held on
August 22–26, 2021
Space Foundation will reconvene the world's space community next year at The Broadmoor in Colorado Springs, Colo., August 22–26, 2021.
Although there will not be an in-person gathering this year, Space Foundation's mission, dedication, and stewardship to the space community will continue more fervently than
ever before.
Introducing Space Symposium 365
Space Foundation is creating "Space Symposium 365" — a new initiative that will premiere this October, offering expanded programming and collaborative opportunities that will continue to bring the global space community together.
Space Symposium 365 will include signature components from Space Symposium, such as presentations by top global space leaders, executive panels, world class awards, New Generation Space Leader activities, and other engaging multimedia components.
Register here to learn more and follow all the key events and discussion from industry professionals, 365 days a year.
Other Space Foundation Highlights 
Space Policy Pod: Episode 8 – Erin Miller, Space ISAC
Our latest episode features Erin Miller, VP of Operations for Space Informational Sharing and Analysis Center (ISAC), National Cybersecurity Center.
Erin has more than a decade of experience building meaningful tech collaborations and has formed hundreds of formal partnerships between government, industry, and academia to solve problems for warfighters and national security.
In this episode, Erin provides an overview of standing up of the Space ISAC, majority challenges facing the space community, and opportunities for working with Space ISAC members.
 Space Industry Updates
Space Policy Updates
Additional Space Foundation Resources
The latest Space4U Podcast episode features Meredith Garofalo — an award-winning Certified Broadcast Meteorologist who is part of the team at the WeatherNation TV network.
The second-quarter issue of The Space Report (TSR) has been released, reporting that the global space economy grew by more than $9 billion in 2019 over the previous year, and that in the past decade, combined government spending and commercial revenue has grown 73%.
Online learning, lesson plans, and video lessons for students grades K–12 are available at the Discovery Center website.
Further Reading
The Space Review | Handshakes and histories: The Apollo-Soyuz Test Project, 45 years later
By Asif Siddiqi and Dwayne A. Day
The article discusses the Apollo-Soyuz test project and the relationships between the USSR and the United States.
Forty-five years after the completion of the project, Roscosmos released declassified documents of the Soviet perspectives that show "hindsight … can be blurrier than we think."
Space Trivia
Viking 1, the first spacecraft to successfully land on Mars, was launched on August 20, 1975. The mission's goal was to study the Martian surface and atmosphere. (Source: Jet Propulsion Laboratory).
---
Posted in Public Policy and Government Affairs