Discover Space
---
Space Foundation Discovery Center Now Hosting Live Virtual Field Trips and Birthday Parties
Written by: Andrew de Naray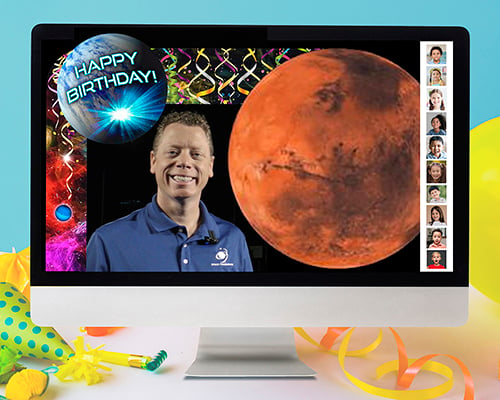 The current pandemic we're enduring has unfortunately led to a scarcity of school field trips and birthday parties. Although that's out of necessity, it's also a huge loss for today's children as it deprives them of some of the most memorable and developmentally essential aspects of their young lives.
To offset these deficiencies, Space Foundation Discovery Center is offering virtual options for both school field trips and children's birthday parties that cater specifically to each audience. The virtual format ensures the safety of all attendees and makes every event inclusive to all children — allowing those who must avoid in-person events to protect their own health or the health of a loved one — to also be included.
As with traditional in-person events, Space Foundation's passionate team of educators will utilize the wealth of entertaining and educational resources at the Discovery Center to deliver a range of virtual programs on the Science On a Sphere®, allow participants to remotely program and drive rovers in the simulated Martian environment of our Mars Robotics Laboratory, and share interactive hands-on lessons with participants.
Virtual Discover the Universe Field Trips
A variety of exciting field trip programs are now delivered virtually by the Discovery Center's accredited education team. These virtual programs support K–12 students with standards-based curriculum, using space principles to integrate science, technology, engineering, and math (STEM) into all content areas. The programs meet a variety of National Council for the Social Studies (NCSS) standards and also exercise essential 21st Century Skills.
Program options are: "Tour of the Solar System" (grades K–12), "Mars" (grades 3–12), "Rocketry" (grades 1–12), "Weather" (grades 3–8), "Moon Phases" (grades 2–6), and "Reason for the Seasons" (grades K–2). All programs include a live Science On a Sphere® presentation followed by a Q&A session, and a hands-on activity lesson plan to be shared with the teacher of the attending class. These programs are designed for a maximum of 50 students and last up to 60 minutes (duration varies depending on grade level). Click here for pricing and program options.
Virtual Mars Robotics Laboratory Field Trips
Let your students get a feel for what it's like to control a rover on the Red Planet. The Robotics Exploration Mission is suitable for grade levels 4–12, and challenges students to work in teams to complete mission objectives that include remotely programming and operating LEGO EV3® robotic rovers on a simulated Martian terrain.
These missions improve students' teamwork, communication, and problem-solving skills, as well as enhance their proficiencies in mathematics, technology, and engineering. The program is designed for a maximum of 15 students and lasts two hours. Minimal technical requirements are necessary to access this offering. Click here for further details and pricing.
Celebrate your birthday star ages 5–12 with a stellar party that all their friends can attend! Virtual birthday parties provide 45 minutes of programming that includes a Science On a Sphere® presentation led by a Space Education Specialist, as well as a hands-on, space-themed activity using everyday materials available at home (a supply list is provided to the birthday parent in advance to share with guests).
Virtual Birthday Party promo from Space Foundation on Vimeo.
Parties can be scheduled between 9 a.m. and 2 p.m. MT on Saturdays (subject to availability), or Monday through Friday by request. Find more details here, contact [email protected] with any questions, or register by completing the Virtual Birthday Party Request form.
Although we'd all prefer to learn about and celebrate the wonders of the universe together in person, these virtual platforms allow Space Foundation to safely deliver all the amazing features of the Discovery Center, share the knowledge of its world-class educators, and utilize its extraordinary teaching tools anywhere — locally, nationally, and internationally.
---
Posted in Discover Space