Public Policy and Government Affairs
---
Biweekly Washington, D.C., Update for the Week Ending February 12, 2021
Written by: Hanh Le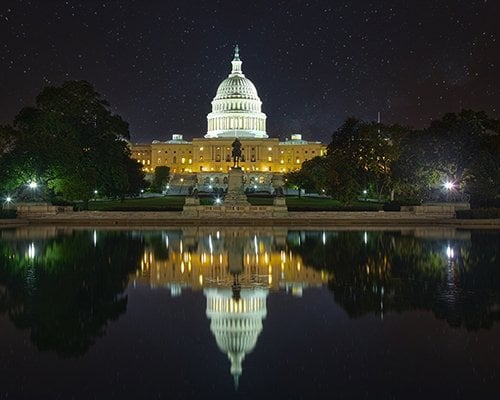 This week Congress attempted to balance moving forward on Biden administration priorities like coronavirus relief, with the impeachment trial of former President Trump. Meanwhile, two of the three probes launched to Mars last summer reached the planet's orbit — the United Arab Emirates' Hope orbiter, and China's Tianwen-1.
The Space Report Quarter 4, 2020 now available
The latest edition of The Space Report highlights that 2020 launch activity hit a 20-year high, with total spacecraft deployment tripling the number deployed in 2019.
Commercial satellite deployments increased 477% from 2019 to 2020.
Orbital launches approached the high pace of the Space Shuttle era, with the highest five-year total since 1986–1990.
Download The Space Report Quarter 4 for more findings.
Sign Up for Space Symposium 365
Register here to follow key events and discussion with industry professionals, 365 days a year.
Upcoming panels and speakers:

16 – Dr. Derek Tournear
17 – Dr. Johann-Dietrich Worner
24 – The Navy's Contribution to Space panel
Space Industry Updates
Space Policy Updates
Additional Space Foundation Resources
The latest Space4U Podcast episode features Jack Gregg, author of the forthcoming book "The Cosmos Economy."
The Space Report Quarter 4, 2020 is available here.
Online learning, lesson plans, and video lessons for students grades K–12 are available at the Discovery Center website.
Further Reading
The Space Review | A review of space strategy worldviews (pt.1): 2011 National Security Space Strategy (NSSS)
By Christopher M. Stone
The 2011 NSSS was based on the perception that the international political consensus favored rulemaking and norm-building, and that international institutions could shape, preserve, and propagate security in the international system.
The article also discusses norms of behavior in space, and China's "strategic culture-offensive realist view" towards deterrence.
The Atlantic | Why SpaceX Wants a Tiny Texas Neighborhood So Badly
By Marina Koren
SpaceX has a long history in Texas, having tested rocket engines in McGregor for nearly two decades.
Boca Chica's residents have lived with, "or at least tolerated," SpaceX over the last five years. The story discusses the increasingly disruptive work by SpaceX and the company's offer to buy their homes.
Space Trivia
Fifty-one years ago, on Feb. 11, 1970, Japan launched its first satellite, Ohsumi, into orbit with a Lambda 4S-5 rocket from Uchinoura Space Center. (NASA)
Contributor: Katie Nelson, Intern, Space Foundation
Editor: Andrew de Naray, Multimedia Content Writer & Editor, Space Foundation
---
Posted in Public Policy and Government Affairs