Public Policy and Government Affairs
---
Biweekly Washington, D.C., Update for the Week Ending May 21, 2021
Written by: Hanh Le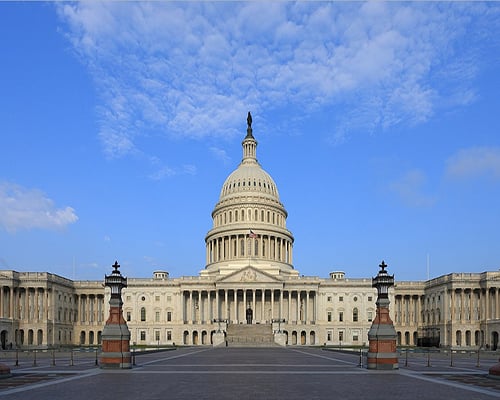 The space community celebrated National Space Day last week. This week, the House voted on a bundle of STEM bills and held a hearing with Administrator Nelson on the FY2022 Budget for NASA. The Senate held a nomination hearing for Pam Melroy to be Deputy Administrator of NASA, and Rick Spinrad to be Under Secretary of Commerce for Oceans and Atmosphere and Administrator of NOAA.  The Committee also approved the nomination of Eric Lander to be Director of the White House Office of Science and Technology Policy (OSTP).
Register for the 36th Space Symposium in Colorado Springs this August
This year Space Symposium will be a hybrid event, providing both live programming for in-person attendees, as well as digital access for online participants.
Both offerings will deliver the quality Symposium experience that has been Space Foundation's signature for four decades.
Sign Up for Space Symposium 365
Register here to access key events and discussion with industry professionals, 365 days a year.
Upcoming panels and speakers:

May 25, Speaker – Into the Future: Climate Services, NOAA Satellites and the Commercial Sector
June 9, Panel – Women in Space Series, the Future of Space Architecture
Space Policy Updates
Space Industry Updates
Hearing
House Science, Space and Technology Committee hearing
Nasa's Earth Science and Climate Change Activities: Current Roles and Future Opportunities
May 18, 2021 11am EDT
The witnesses were Dr. Karen St. Germain (Science Mission Directorate, NASA), Dr. Gavin Schmidt (Director of NASA Goddard Institute for Space Studies), Mr. Riley Duren (Carbon Mapper, Inc.) and Mr. Robbie Schlinger (Planet).
Schmidt says NASA and the U.S. needs to lead and make strong advances to mitigate global warming to turn the tide by the end of the century.
Witnesses agreed data security issues involving China prove the need for a system of systems, the duplicity will provide indication of unreliable data and filter it out of the system.
Additional comments were made for Congress to lead on regulations to shape industry moving forward for space traffic management/ space situational awareness (STA/SSA).
NASA will be relying on Decadal Survey to forecast future programs and will lead government agencies by leaning into procurement and embracing industry.
House Appropriations Commerce, Justice, Science Subcommittee Hearing
Fiscal Year 2022 Budget Request for NASA
The witness was the Honorable Bill Nelson, Administrator NASA.
Administrator Nelson was asked on why NASA chose one company, SpaceX, for the Human Landing Systems award. Several members voiced concerns on the HLS procurement.
Administrator Nelson indicated that NASA is in a blackout period while the protest is ongoing. No one can collect or work on HLS during the protest review period.
Administrator Nelson stated the agency named about $5.4 billion on HLS and an additional $200 million for jobs bill for Artemis spacesuits. He also discussed the jobs bill as a vehicle to improve NASA's infrastructure.
Administrator Nelson promised to be purchasing more Landers, but the funding is needed for those additional contracts.
Chairman Matt Cartwright (D-PA) expressed support of the SBIR/STTR program, asked if there would be another Tipping Point Solicitation, which funds would depend on those appropriated.
Ranking Member Robert Aderholt (R-AL) asked how NASA is working to stay ahead of US adversaries, NASA is the preeminent space faring nation, and will be returning to the Moon, and going on to Mars.
Roger Wicker profile
Senator Roger F. Wicker (R-MS) is the ranking member of the Senate Committee on Commerce, Science, and Transportation and sits on the Senate Armed Services Committee. Mississippi is home to the NASA Stennis Space Center, a rocket engine test facility.
During his time on the Commerce committee, Senator Wicker has introduced the Space Preservation and Conjunction Emergency (SPACE) Act, which authorizes the Department of Commerce to provide space situational awareness services to civil, commercial, and international space actors. The bill would also codify Space Policy Directive-3 (SPD-3). This Congress, Wicker and Sen. Jacky Rosen (D-NV) also introduced the Rural STEM Education Research Act (S.1374).
The Senator previously served as Chairman of the Senate Commerce Subcommittee on Communications, Technology, Innovation and the Internet. Before his term in the Senate, he also was a member in the House of Representatives, serving on the House Appropriations Committee.  Senator Wicker served active duty in the U.S. Air Force. He later joined the Air Force Reserve and retired in 2004 with the rank of lieutenant colonel. Senator Wicker earned a J.D. from the University of Mississippi.
Further Reading
The Space Review | Redundancy now, or redundancy never?
By Jeff Foust
The author discusses the HLS awards and arguments from Dynetics and Blue Origin.
Additional Space Foundation Resources
The latest Space4U Podcast episode features Tom Smokov & Craig Fairclough, Water Pure Technologies.
The Space Report (TSR) Q1 2021 is now available.
Online learning, lesson plans, and video lessons for students grades K–12 are available at the Discovery Center website.
Space Trivia
On May 19th, 2000, space shuttle Atlantis launched with the very first glass cockpit, one of the several upgrades made before STS-101. (MSN)
---
Posted in Public Policy and Government Affairs