Space Foundation Press Releases
---
Space Foundation Releases The Space Report 2022 Q4 
Written by: Space Foundation Editorial Team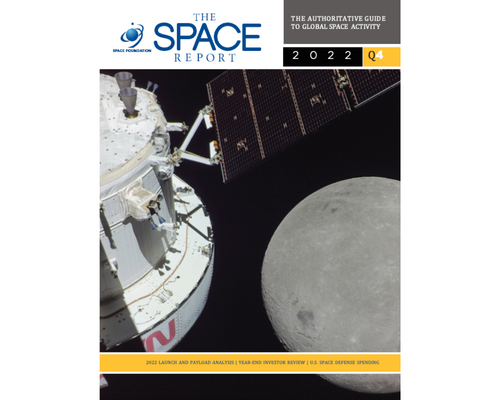 Records Set for Launches and Payloads Reaching Space Despite Economic Headwinds   
Successful launch attempts increased more than 33% from 2021 to 2022 
Spacecraft operators deployed 2,354 spacecraft in 2022, a 36% annual increase  
Pentagon more than doubled space budgets from 2005 to 2022 
COLORADO SPRINGS, Colo. – Jan. 24, 2023 – Space Foundation, a nonprofit organization founded in 1983 for the global space ecosystem, today released The Space Report 2022 Q4, showing shattered records for launches and the number of satellites and spacecraft to reach orbit despite difficult market conditions and international tensions, including the Russia-Ukraine war. 
The report offers analysis of 2022 launch and payload data, with the volume of payloads reaching orbit rocketing up 36% over 2021. It also examines the space economy, which cooled in 2022 compared to the red-hot prior year. Despite being buffeted in 2022 by external forces, including inflation and rising interest rates, the industry saw solid investments along with a string of mergers and acquisitions, showing continued confidence in the future of space firms. 
Space Foundation CEO Tom Zelibor said, "The record-setting year cemented the role of work in space to improve life on Earth, driving a critical need for international cooperation and agreements to ensure a safe and peaceful future in Earth orbit and beyond. As commercial, civil and military launches and payloads continue to climb, there are crucial conversations needed to ensure global cooperation on space practices," Zelibor added. "We must agree on legal frameworks, and for the United States in particular, there is an urgent need to finally recognize space as a critical infrastructure, which will ensure the added oversight, funding and protection it deserves." 
 The report examines shifts in space policy over 2022, which highlights the importance of civil and military space to governments around the globe. The United States, which has boosted investment in military space in recent years, issued a national defense strategy in October that showed the Pentagon's desire to lean on nimble space businesses, while policing and protecting commercial space ventures in orbit. Meanwhile, cooperation late in 2022 between the United States and Russia to deal with issues aboard the International Space Station show relations frozen by battles in Ukraine may thaw.
 
The Q4 edition continues more than a decade of reporting by The Space Report and includes insight from aerospace industry leaders on the challenges and opportunities they foresee in 2023. Key issues include evolving regulatory policy for spacefaring firms, ongoing workforce development efforts, and exploration opportunities that could fundamentally change how humankind thinks about space.  
In space infrastructure, The Space Report examines work to better understand growing solar storms that could disrupt satellites and other space activities. Solar Cycle 25 is expected to reach maximum activity in two years, and NASA, the European Space Agency, and China's National Space Administration have sent probes to gather a record volume of data on the Sun. 
This edition of The Space Report also looks at how increased reliance on computer simulation is changing the future in orbit. Digital twins, which began with rudimentary simulators for NASA's Mercury program, now deliver precise modeling to increase safety in orbit and harden satellites against hacker attack. 
About The Space Report   
The Space Report, published by Space Foundation since 2006, is the authoritative report on the global space ecosystem, covering space exploration and space-to-Earth industries. Available on a subscription basis, The Space Report provides policy analysts, congressional staff, investors, media, and space industry newcomers with research and insight on a quarterly basis. Highlighting each report is an overview of the latest data available on the space economy, space infrastructure, and other key industry indicators as well as analysis of commercial, government and educational events impacting business, workforce and our daily lives. To learn more about The Space Report, visit www.thespacereport.org.     
About Symposium 365   
Symposium 365 is the premier source for information and events in the global space ecosystem, offering authoritative news and insight as well as opportunities for networking and conducting business via Space Symposium and The Space Report. Serving commercial, government and education sectors, programs and resources are delivered in-person and online around the globe. To learn more about Symposium 365, visit www.spacesymposium 365.org. 
About Space Foundation   
Space Foundation is a nonprofit organization founded in 1983, offering information, education and collaboration for the global space ecosystem. Driven by partnerships, Space Foundation unites the entire spectrum of stakeholders – business, government, education and local communities – through support from corporate members, sponsors, fundraising and grants. Visit Space Foundation at www.SpaceFoundation.org, and follow us on Facebook, Twitter, Instagram, LinkedIn and YouTube. 
 ###   
All brand names and product names are trademarks or registered trademarks of their respective companies.   
Tags: Space Foundation, The Space Report, Symposium 365, space launch, space technology, space innovation, space ecosystem, space advocate, space commerce, space exploration, 2022 satellites, space spending, commercial space, space defense, space-to-Earth industries  
Media Contacts:   
Rich Cooper  
Vice President, Strategic Communications & Outreach  
Space Foundation 
(202) 596-0714
[email protected]    Dottie O'Rourke  
TECHMarket Communications  
(650) 344-1260  
[email protected]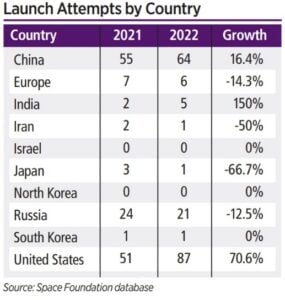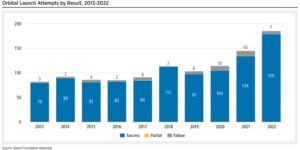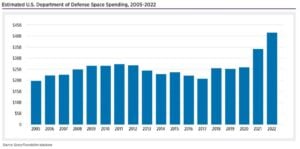 ---
Posted in Space Foundation Press Releases