Report from Washington, D.C.
---
Space Foundation Driving Discussions for a Greener Future
Written by: Space Foundation Editorial Team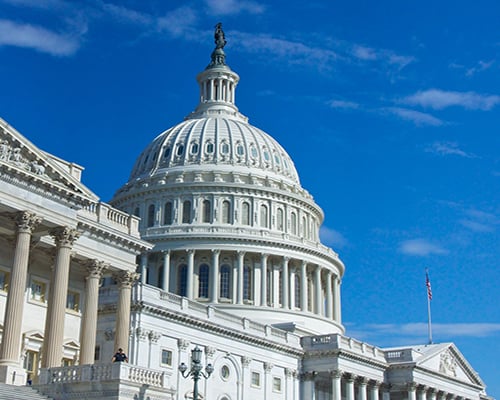 On July 19, NASA, in partnership with Senator Brian Schatz (D-HI), brought together key federal agency partners to explore the latest scientific advancements and innovative solutions for studying our climate at an interagency event in Washington, D.C. As the urgency of climate change continues to escalate, this Climate Interagency Hill Day gathered key government officials and scientific experts to strengthen our collective commitment to better understand our planet's climate and environmental health through space, science and technology. 
Following the Climate Interagency Hill Day, Space Foundation took center stage and hosted a private networking reception on Capitol Hill. The reception was attended by 60 Space Foundation corporate members as well as representatives from various federal agencies, such as the National Aeronautics and Space Administration (NASA), the Department of Energy (DOE), the Department of Commerce (DOC), the Department of the Interior (DOI), the Department of Agriculture (USDA), Environmental Protection Agency (EPA), and other agency partners. 
The gathering provided an opportunity for industry and government to interact, exchange ideas, and foster fruitful discussions. As climate research is further intertwined with space technology, Space Foundation's role in convening the greater space community helped drive top-level discussions in the field of climate science and policy. This underscores the notion that tackling climate challenges requires a multifaceted approach, and all sectors have a role in driving actionable solutions for a greener future.  
Thomas Dorame leads Symposium 365, the premier source for media and events in the global space ecosystem, offering authoritative news and information and venues for networking and conducting business — including the world-renowned Space Symposium, The Space Report and Symposium 365 Digital Platform. Based in Washington, D.C., Thomas brings a combination of military and civilian education to Space Foundation, complemented by both operational experience and working strategic issues. Connect with Thomas on LinkedIn.  
---
Posted in Report from Washington, D.C.