Spotlight
---
Top 5 Reasons to Attend the 25th National Space Symposium Inspired Agenda
Written by: developer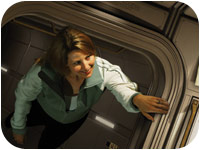 Reason #3: The 25th National Space Symposium will kick off with a fantastic Opening Ceremony and Opening Night Reception celebrating the advancements of the last 50 years in space and presenting an inspiring view of what waits ahead in The Next Space Age. The event will integrate space music performed by the Colorado Springs Philharmonic Orchestra and the Colorado Spring Chorale with spectacular space images and presentation of awards recognizing education, public outreach, space achievement and space exploration. The evening culminates with fireworks. The Opening Ceremony is co-sponsored by Lockheed Martin, the Opening Night Reception by United Space Alliance and the Opening Night Fireworks and Late-Night Reception by Ball Aerospace & Technologies Corp.
The program agenda, which begins on Tuesday, March 31, include a mix of top-notch speakers and panels from across the space industry. For information about Featured Speakers see "Top 5 Reasons to Attend the 25th National Space Symposium – Leadership" in this edition of Space Watch.
The keynote panel sets up the symposium's theme, The Next Space Age, which will be carried throughout the program agenda. Panel discussions will focus on the changing customer and partner relationships, end-user products, business models, and regulation issues for future space activities. For the first time, the program will present the "Space Commander's Forum," a panel featuring past commanders of U.S Space Command and U.S. Strategic Command. New Air Force missions will be discussed in "The Air Force and Cyberspace – Expanded Missions for the Next Space Age" panel. "A New Generation for the Next Space Age" panel takes a look at The Next Space Age through the eyes of the up-and-coming generation of space scientists, engineers, program managers, and explorers.
Among the extensive and diverse list of panelists are:
• Senior executives from Arianespace; Ball Aerospace & Technologies Corp.; Boeing; Booz Allen Hamilton; EADS-Astrium; Holland and Hart, LLC; Houlihan Lokey; Intelsat Ltd.; Integral Systems, Inc.; Lockheed Martin; MacDonald, Detweiler and Associates, Ltd.; Near Earth, LLC; Northrop Grumman Corporation; Raytheon; SkySevenVentures; Space News; Toffler Associates; and Virgin Galactic.
• Senior leaders from the Canadian Space Agency; the European Commission; the European Space Agency; the Federal Aviation Administration: the Japan Aerospace Exploration Agency (JAXA); the National Oceanic and Atmospheric Administration (NOAA); the Secure World Foundation; the Space Foundation; and the X Prize Foundation.
• Educators from the Center for Strategic and International Studies; the International Space University; and George Washington University's Space Policy Institute.
• Current and retired military leaders from the Air Force Space Command; the U.S. Space Command; and the U.S. Strategic Command.
For full agenda details, see www.NationalSpaceSymposium.org/agenda.
This article is part of Space Watch: March 2009 (Volume: 8, Issue: 3).
---
Posted in Spotlight