Spotlight
---
26th National Space Symposium will be Best Ever
Written by: developer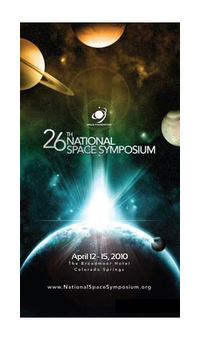 The 26th National Space Symposium, April 12-15 at The Broadmoor Hotel in Colorado Springs, Colo., is shaping up to be bigger, better, and more specifically targeted to attendees' individual needs than ever before.
More Networking
If your main reason for attending the National Space Symposium is networking - and most participant's is - this year's program offers more opportunities than ever before. There will be ample time to meet and mingle on the floor of the AMERICOM Government Services (AGS) Exhibit Center, where you can talk with current and potential business associates. There are luncheons, receptions, and dinners where conversation and contacts are among the top priorities.  
More Targeted Programs
In addition the main agenda, the 26th National Space Symposium features special programs targeted to new generation space professionals and attendees with a specific interest in cyberspace, plus the programs for educators and students are richer than ever. And, for the first time, we're working in partnership with Euroconsult, to present a panel on emerging space applications with a decidedly international flavor.
More Information
The 26th National Space Symposium agenda covers every aspect of space. Topics incude the new NASA budget proposal, the latest from Air Force Space Command, commercial space perspectives - U.S. and international, the intersection of space and cyber, Europe's space ambition, congressional viewpoints, Wall Street's take on space, the role of the National Reconnaissance Office (then and now), the space acquisition process, emerging space applications, space situational awareness and space debris, commercial space, words from the NASA administrator, and an examination of what inspires us fly.
More Influence
The slate of speakers is impressive: leaders from the military and industry, space entrepreneurs and explorers, policy makers and administrators, financiers, authors, astronauts, iconic actors, and up-and-coming space professionals. Big names on the agenda include: NASA Administrator Charles Bolden; NRO Director Bruce Carlson; private space traveler Richard Garriott; Air Force Space Command Commander Gen. C. Robert Kehler, USAF; Boeing Executive Vice President and Boeing Defense, Space & Security President and Chief Executive Officer Dennis Muilenburg; space journalist Miles O'Brien; George Washington University Space Policy Institute Professor of the Practice of International Affairs Director Dr. Scott Pace; and SpaceX President Gwynne Shotwell. And, that's just a fraction of the experts on the agenda. To see all the speakers, click here.
More Stuff
The sold-out AMERICOM Government Services (AGS) Exhibit Center will feature top companies and organizations, showing off their products, services, and capabilities. Plus, if you're lucky, you can grab some good swag before it runs out!
More Fun
As effective as the National Space Symposium is at getting business done, it's not all work. There's a little play, too. The Opening Ceremony will include a rousing performance by musical group Barrage. The Wednesday night hospitality events will give everyone an opportunity to relax. The Space Technology Hall of Fame® Dinner with feature iconic actor and  Douglas S. Morrow Public Outreach Award winner Leonard Nimoy. And, a brand new event - a reception following Space Technology Hall of Fame® Dinner - will give all participants a chance to welcome new generation space professionals to the fold.
More Inspiration
A  big part of the National Space Symposium is the inspiration attendees glean from the awards, including: the Alan Shepard Technology in Education Award, which goes to a Tennessee teacher who is inspiring students with astronomy and aviation; the John L. "Jack" Swigert, Jr., Award for Space Exploration, which goes to the LCROSS Mission for its historical confirmation of water ice on the Moon; the General James E. Hill Lifetime Space Achievement Award, honoring legendary astronaut John Young; and the Douglas S. Morrow Public Outreach Award, going to Leonard Nimoy.
This article is part of Space Watch: March 2010 (Volume: 9, Issue: 3).
---
Posted in Spotlight