Spotlight
---
More than 2,000 Join Symposium Education Events
Written by: developer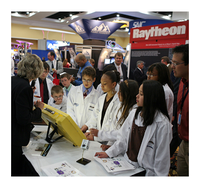 More than 2,000 local students and over 80 teachers from 11 states and Puerto Rico participated in the education component of the Space Foundation's 26th National Space Symposium. The education programs encompassed educator professional development, student participation, and national recognition of an outstanding science teacher.
The Alan Shepard Technology in Education Award
Allen V. Robnett, a science teacher at Gallatin High School in Gallatin, Tenn., was awarded the Alan Shepard Technology in Education Award, which is given each year by the Astronauts Memorial Foundation (AMF), the National Aeronautics and Space Administration (NASA), and the Space Foundation in recognition of outstanding contributions to technology education by K-12 educators or district-level education personnel. The award was presented April 12 at the Opening Ceremony of the 26th National Space Symposium. To see Robnett's acceptance speech, in which he talked about the importance of science education, and to see an introduction video on the award, click here.
Robnett was selected for his work developing two innovative high-school-level courses that use compelling subjects and hands-on experiences to motivate students to build their science, math, and technology skills.
Teacher Professional Development
National Space Symposium education activities included a full-day workshop for Space Foundation Teacher Liaisons, a group of nationally recognized educators who are passionate about space science. The event has staying power in the form of hands-on curriculum that the teachers immediately took back to their classrooms.Teachers also traveled with members of the Space Foundation education team to visit the United States Geological Survey (USGS) in Denver and Golden, Colo., where they saw the U.S. National Earthquake Center, the Core Research Center, Rocky Mountain Mapping Center, and the National Water Quality Laboratory.
Student Involvement
More than 2,000 Colorado students, including classes taught by Space Foundation Teacher Liaisons and students from Space Foundation education partner Colorado Springs School District 11 (D11), traveled to The Broadmoor to participate, as well. Middle and high school students toured the SES WORLD SKIES, USG Exhibit Center. The student tours were sponsored by Pratt & Whitney Rocketdyne and included stops at 18 specially designated booths within the Exhibit Hall:
Analytical Graphics, Inc. (AGI)
Ball Aerospace & Technologies Corp.
Boeing; Braxton; Dynetics
Federal Aviation Administration
GMV
Missile Defense Agency
NASA
National Oceanic and Atmospheric Administration (NOAA)
Northrop Grumman
Pratt & Whitney Rocketdyne
Raytheon
SES WORLD SKIES, U.S. Government Solutions
The Aerospace Corporation
United Launch Alliance
Universal
Younger students attended "Audience with an Astronaut" sessions, featuring Col. Michael Bloomfield, USAF (Retired), Col. Brian Duffy, USAF (Retired), and James F. Reilly, II, Ph.D., co-sponsored by the Maui Economic Development Board, Inc., and Capt. Michael J. McCulley, USN (Retired), co-sponsored by Boeing.
Students from two schools in Colorado Springs School District 11 – Jack Swigert Aerospace Academy, and its sister school Galileo School of Math and Science – were stationed at the Space Foundation booth explaining the mission of both schools.
The Jack Swigert Aerospace Academy students discussed how the themes of space and aerospace are integrated into the curriculum. They also demonstrated gloveboxes like those used by astronauts on the International Space Station and the Space Shuttle to conduct experiments, and explained the soon-to-be-opened AGI Space Missions Simulator at the Space Foundation Discovery Institute, which was created through a generous donation from Analytical Graphics, Inc. (AGI).
The Swigert Academy is an aerospace-focused public middle school created in partnership with D11 that drives science, technology, engineering, art, and mathematics proficiency through a space-related curriculum, enhanced onsite laboratories and learning opportunities, and involvement with Space Foundation programs.
Pictured: Students visit the SES WORLD SKIES, USG Exhibit Center at the 26th National Space Symposium
This article is part of Space Watch: May 2010 (Volume: 9, Issue: 5).
---
Posted in Spotlight