Spotlight
---
China Prepares to Launch "Heavenly Palace"
Written by: developer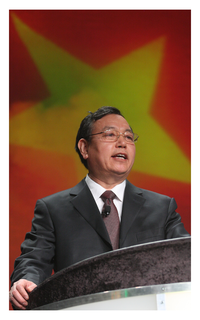 China says it has completed assembling the first module for its space station, and the country's space agency hopes to launch it next year, according to an Aug. 17 Space.com story by Senior Writer Clara Moskowitz.
The story quotes China's Xinhua news agency, saying that the unmanned Tiangong-1 module will lift off on a Chinese Long March 2F carrier rocket sometime in the first half of 2011. An unmanned spacecraft, the Shenzhou 8 vehicle, is expected to launch later and rendezvous with the module in the first demonstration of the Chinese space station's docking capability.
Tiangong means "Heavenly Palace" in English.
China's first manned spaceflight was Shenzhou 5 in 2003. The Space Foundation presented China's Shenzhou 7 mission, which included China's first spacewalk, with the Space Achievement Award in 2009. China is the third country, behind Russia and the United States, to independently launch humans to space.
Eventually, according to Moskowitz, China plans for manned spaceships to dock with Tiangong-1 and crews to take up residence on the station. Shenzhou 8's successors, Shenzhou 9 and Shenzhou 10, are likely to launch with Chinese "taikonauts" on board in 2012.
To see the full story, click here.
The Space Foundation sponsored a delegation to China to tour Chinese space facilities in late 2009; Chinese space officials presented at both the 25th and 26th National Space Symposia. The Space Foundation also has a Memorandum of Understanding with the Chinese Society of Astronautics to mutually work on programs to advance space activities and programs.
Pictured: Wang Wenbao, director general of the China Manned Space Engineering Office (CMSEO) spoke about China's human spaceflight program at the 26th National Space Symposium

This article is part of Space Watch: September 2010 (Volume: 9, Issue: 9).
---
Posted in Spotlight