Spotlight
---
Earth from ISS is Symposium Poster Art
Written by: developer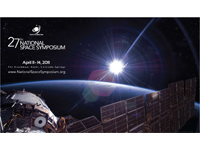 An extraordinary image of the Earth photographed by one of the STS-129 crew members from the International Space Station (ISS) is the poster art for the Space Foundation's 27th National Space Symposium. The photo, provided courtesy of NASA, shows the sun rising over the horizon with the Russian section of the orbital outpost in the foreground. The poster is co-sponsored by the International Space University.
"In one image, we capture multiple themes that will play out during the Symposium," said Space Foundation Vice President Marketing and Communications Janet Stevens. "International cooperation, the success of both the ISS and the Space Shuttle program, the ongoing need for space-based research and the phenomenal emotional impact of space."
The 27th National Space Symposium, which will be held April 11-14, 2011, at The Broadmoor Hotel in Colorado Springs, Colo., is the premier gathering of the global space community. It features  forums, panels, presentations, special dinners and luncheons, engaging programs for teachers and students, the extensive Boeing Exhibit Center, the Cyber 1.1 workshop and New Generation Space Leaders programs for young, up-and-coming space professionals.
For more details, see related article in this issue of Space Watch or go to www.NationalSpaceSymposium.org. 
This article is part of Space Watch: October 2010 (Volume: 9, Issue: 10).
---
Posted in Spotlight