Space Awareness
---
Spinoff Features Space Technology Hall of Fame Inductees
Written by: developer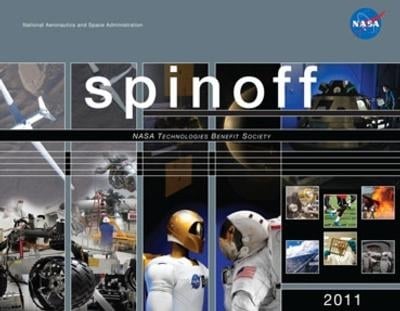 Six Space Technology Hall of Fame® inductees, three of which are also Certified Space Technologies, are featured in the current edition of NASA's Spinoff publication, released last month and now available online. The glossy magazine reveals how the space agency's ingenuity and partnerships have saved thousands of lives, generated billions of dollars and created thousands of American jobs.
The featured Space Technology Hall of Fame Inductees include:
Regentech Intrifuge CellXpansion, Universal Remediation, Inc., petroleum remediation technologies  and Water Security Corporation purification systems are also recognized by the Space Foundation as Certified Space Technologies.
The magazine, which also features two articles about the Space Technology Hall of Fame, covers 44 of NASA's most innovative technologies. It chronicles their origins in space and transfer to the public in the form of practical commercial products and benefits to society.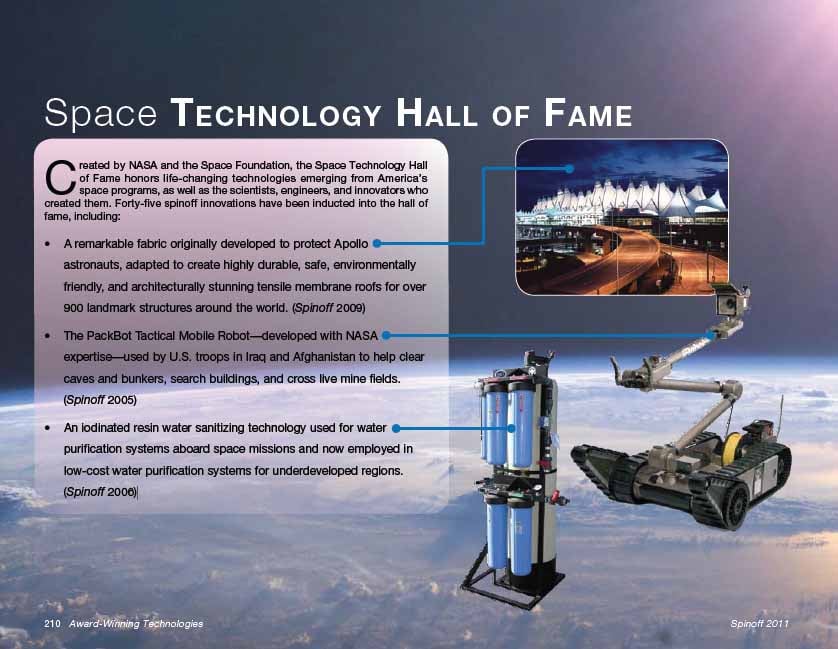 About Spinoff
Sharing an objective with the Space Foundation to educate the public about the benefits of space for life on Earth, NASA Spinoff covers how space technologies have benefited health and medicine, transportation, public safety, consumer goods, energy and the environment, information technology and industrial productivity, stimulating the economy and creating new jobs and businesses.
This year's Spinoff includes a special section to celebrate the commercial technologies that resulted from NASA's 30-year Space Shuttle Program and the International Space Station. An additional section discusses the potential benefits of NASA's future technology investments. Spinoff 2011 is available online here. A Spinoff archive features past issues and a searchable database of more than 1,750 NASA-derived technologies.

About the Space Technology Hall of Fame
The Space Technology Hall of Fame® increases public awareness of the benefits of space exploration and encourages further innovation by recognizing individuals, organizations and companies that effectively adapt and market technologies originally developed for space to improve the quality of life for all humanity. We work with U.S. and international space agency technology transfer offices to identify the most significant space innovations and with panels of space and technology experts to select the most meaningful examples for induction. The ever-growing list of honorees showcases the significant contributions space makes to life on Earth. To date, we have inducted 65 technologies and honored hundreds of organizations and individuals who transformed space technology into commercial products that improve the quality of life for all humanity. Visit www.SpaceTechHallofFame.org for more information.
About Space Certification
The Space Foundation builds awareness of the benefits of space through our Space Certification program, which demonstrates how space technologies improve life on Earth and makes space more interesting and accessible to everyone. Products and services that display the Space Certification seal are guaranteed to have stemmed from or been dramatically improved by technologies originally developed for space exploration or to have significant impact in teaching people about the value of space utilization. Using the official Space Certification seal provides a marketing edge for partners, demonstrates how space technologies improve life on Earth and makes space more accessible to everyone. Space Certication includes three categories: Certified Technology Products, Certified Educational Products and Certified Imagination Products. Find out more about Space Certification and see a full list of our Certified Partners at www.SpaceCertification.org.
This article is part of Space Watch: March 2012 (Volume: 11, Issue: 3).
---
Posted in Space Awareness