Space Foundation News
---
28th National Space Symposium and Cyber 1.2 Online Registration is Available Until Noon Today
Written by: developer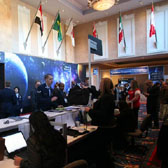 Online registration for the Space Foundation's 28th National Space Symposium and Cyber 1.2 events will close at noon Mountain Time today, April 13. Until then, secure online registration is available at www.nationalspacesymposium.org/register, which includes a live chat tab for customer service questions.
Onsite registration and registrant check-in will open at 4:00 p.m. on Sunday, April 15, at The Broadmoor Hotel's International Center, and will remain open until 7:00 p.m. on Sunday. Onsite registration/registrant check-in reopens at 6:00 a.m. on Monday at both the International Center and Colorado Hall.
Registrants who pre-purchased The Space Report 2012: The Authoritative Guide to Global Space Activity should pick up the book at check-in. The Space Report may also be purchased onsite or online at www.spacefoundation.org/store/space-report. A 50 percent discount of $69.50 is available until May 1.
For the most current program information see: www.nationalspacesymposium.org/agenda/full-extended-agenda
---
Posted in Space Foundation News