Space Foundation News
---
Satellite Providers Discuss Issues, Needs
Written by: developer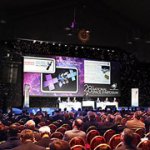 The satellite industry has become such an important part of the space industry and there are so many companies involved that the 28th National Space Symposium fielded two panels on Wednesday morning, April 18, to discuss issues and opportunities. The Satellite Operators and Manufacturers Part 2 panel took up where the Part I panel left off.
Key points included:
Andrew Sukawaty, chairman, Inmarsat: Drawdown in Afghanistan has softened demand, but that comes with territory. Business is dependent on events, and when the next event comes, we want to be ready to put capability in place. Long-term demand trends will be present in multiple bands, but timing is critical from a commercial perspective. The more Wideband Global Satellite (WGS) there is, the more disruption there is on the commercial side. But, with the ramp-up of demand, it shouldn't be too much of an issue. When making investments, we consider spectrum availability; there is a lot of availability in KA and KU; L is more limited; both play critical roles. We would like to see more government predictability, but since we sell on demand, we are less affected by changes in policy. 
Kay Sears, president, Intelsat General: The Iraq drawdown was modest, but surprisingly fast. As soon as capacity returns to the fleet, it gets redeployed to meet other demand; so, we'll continue to see capacity spread out across a broader field. The WGS system will be a very sophisticated system and, over time, we may see a tempering of demand for commercial capability. The diversity and flexibility of commercial satellite services will continue to be desired by the military even when it has its own systems. Specifically in the area of intelligence, surveillance and reconnaissance, companies need a clear idea of what commercial satellite providers can do in this area, and all frequencies need to be leveraged to this end. The commercial sector is serving the government UAV market well, which begs the question of why would we go to the expense to transfer UAVs to the KA band. We need to leverage all frequencies rather than allocate government to just government bands.
Brig. Gen. Robert (Tip) Osterthaler, USAF, Ret., president and chief executive officer, SES Government Solutions: There's a lot of uncertainty in the department of defense about what will happen in Afghanistan and when, which is driving caution in contracting. WGS is coming online and, because it is free to users, it is very attractive. It is a special challenge because it will create disruptions through greater bandwidth demand. We would like to see more deliberate and rigorous analysis of cost because when the government competes with commercial entities there is rarely an apples-to-apples comparison; I don't think we know the real capability cost of WGS. The rhetoric of partnership from the government is not the same as binding business partnerships. They present significant risks; it's a serious problem. Regarding budget constraints, in the future when we are more constrained, we will need a more rigorous analysis of cost. Government needs to deal with industry in a way that allows companies to make investments.
Matthew Desch, chief executive officer, Iridium Communications, Inc.: Diversification to meet customer needs keeps the business stable. When working with the DoD, we are often in a back-up role, but now that we are moving to expeditionary missions, we play a larger role. Companies that work in different bands are starting to work together. We try not to work in commoditized markets; rather it's about partnering and being flexible. Understanding the environment isn't easy for customers, including government, but the industry does benefit from predictability. While opportunistic industry/government relationships can have positives outcomes, more benefit could come from putting a broader plan in place to institutionalize such partnerships.
Samer Halawi, chief executive officer, Thuraya: Three factors are important – troop withdrawal, demand shifts to other areas and budget tightening. That makes it a good match for small, on-demand satellites with fixed-fee packages. We believe customers are looking for solutions that are not restricted to a specific band. We should meet demand rather than adding capacity just to add capacity. The commercial sector brings innovation, which is badly needed.
The panel was moderated by Space News Editor Warren Ferster.
See photos here. See video here.

Pictured: Osterthaler, Desch, Hawali, Sears, Sukawaty
---
Posted in Space Foundation News