Spotlight
---
Space Foundation Presents Awards at National Space Symposium Opening Ceremony
Written by: developer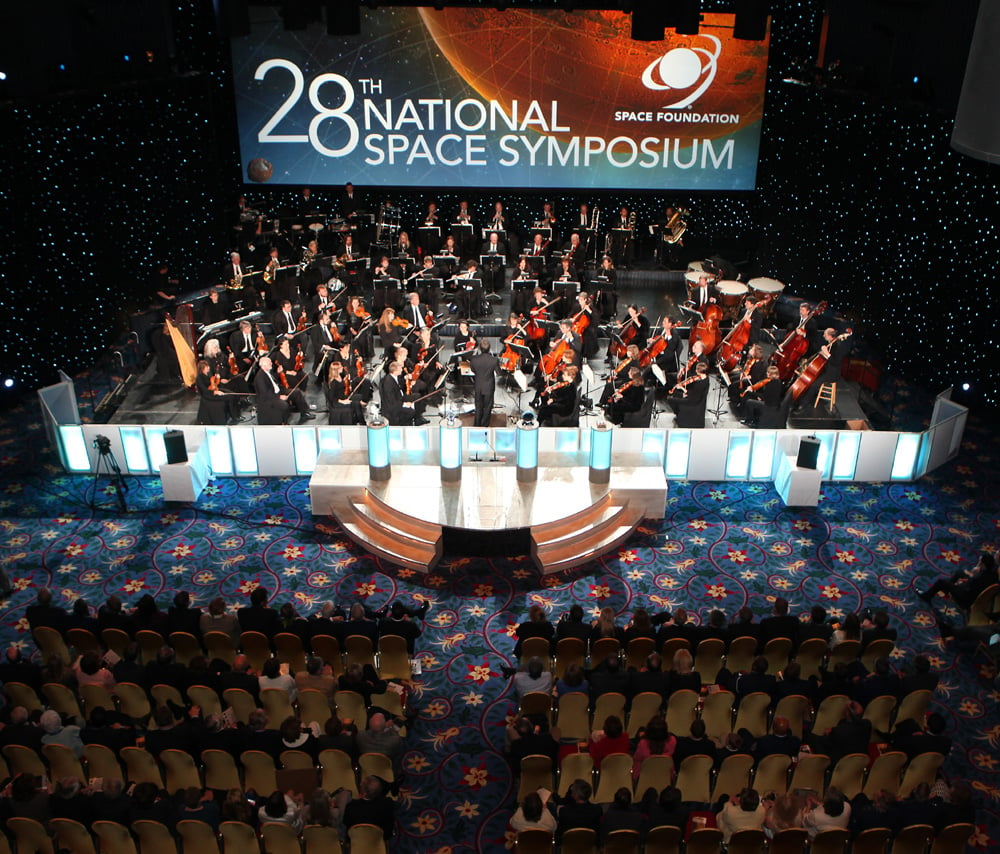 The fabulous 28th National Space Symposium Opening Ceremony, held Monday evening, April 16, featured the Colorado Springs Philharmonic playing two selections from Gustav Holst's The Planets, Op. 32: Jupiter, Bringer of Jollility and Mars, Bringer of War. The event, which was co-sponsored by Lockheed Martin, officially kicked off the Symposium. It began with remarks from Space Foundation Chief Executive Officer Elliot Pulham, who spoke about the excitement in the space industry, which continues to grow despite economic challenges, continues to expand into more and more applications and continues to become more global and more collaborative. He also noted that the 28th National Space Symposium was the largest and most diverse of any Symposium ever held.
The Opening Ceremony also provided a forum for presenting four of the Space Foundation's top awards:
Alan Shepard Technology in Education Award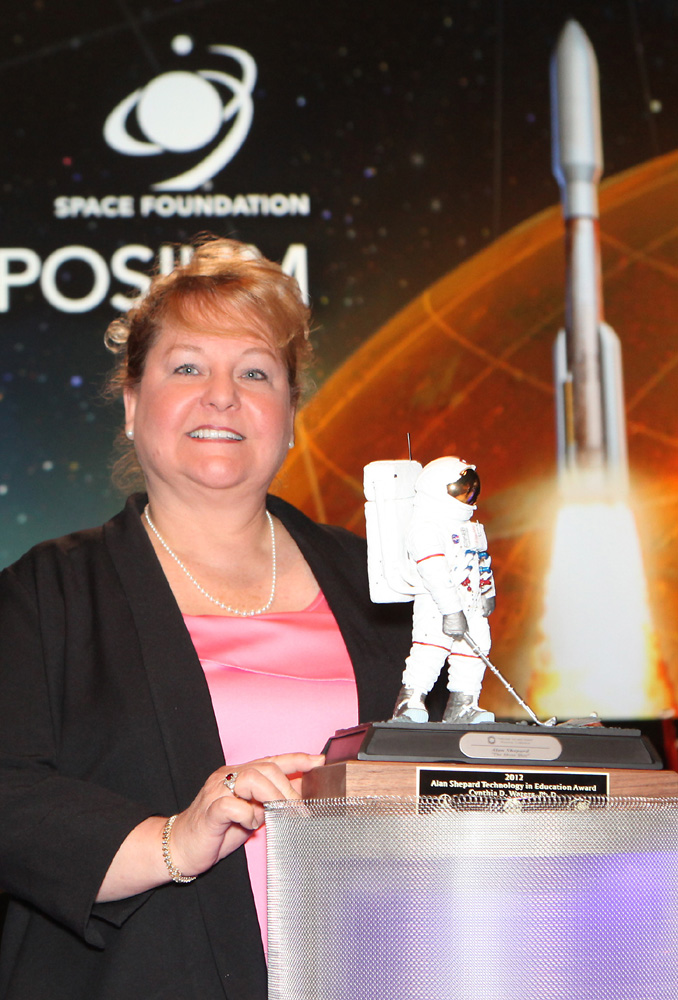 Presented in conjunction with the Astronauts Memorial Foundation (AMF) and the National Aeronautics and Space Administration (NASA), the award, which is named after Mercury Astronaut Alan Shepard, recognizes outstanding contributions to creative and innovative use of technology in education by K-12 educators or district-level education personnel. The 2012 recipient is Dr. Cynthia D. Waters, director of aviation for The Aviation Academy at T.W. Andrews High School in High Point, N.C. She is an educator, FAA commercial pilot, flight instructor and member of the North Carolina Airport Economic Development Alliance. Waters uses her experience and contacts to provide the Academy's 140 students with career development opportunities in aviation, engineering and aerospace. Read about the award and the winner here. See video here.
Douglas S. Morrow Public Outreach Award: NASA Social Media Team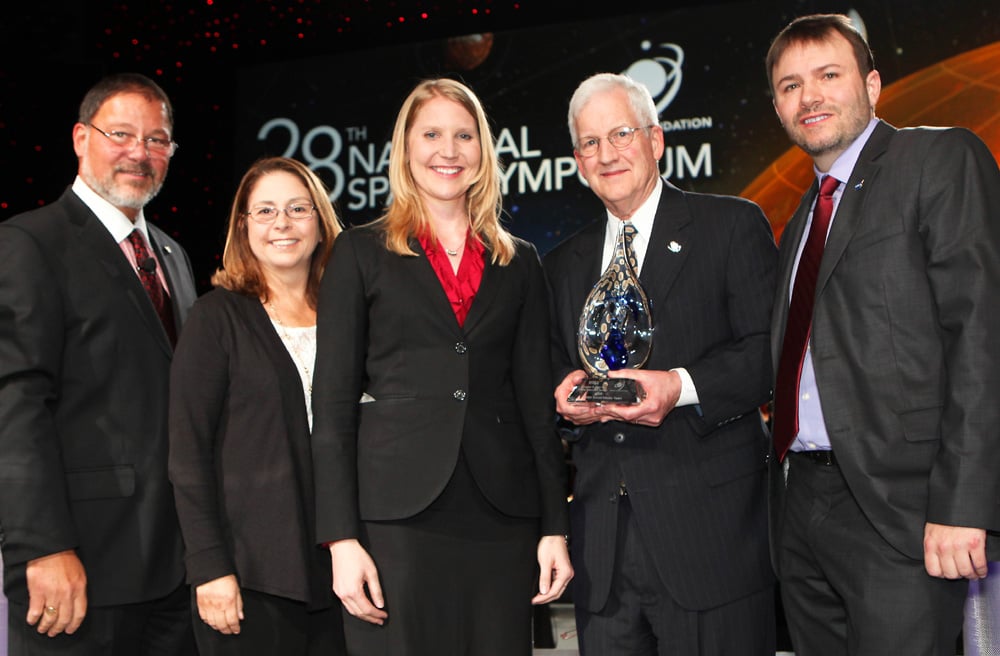 Named for Academy Award winning writer and producer, space advocate and early member of the Space Foundation Board of Directors Douglas S. Morrow, the award recognizes those who have made significant contributions to public understanding of and support for space programs. The 2012 winner is the NASA Social Media Team for creative and pioneering use of social media platforms including Facebook and Twitter, actively engaging millions of people around the world - even in orbit. Perhaps the most visible and original part of the NASA program is its ongoing series of Tweetups where NASA social media followers connect with NASA leaders, scientists and astronauts. Pictured: Pulham; Veronica McGregor, media relations/social media manager, NASA Jet Propulsion Laboratory; Stephanie Schierholz, NASA's first social media manager and now social media manager, Raytheon; Space Foundation Chairman Marty Faga; and John Yembrick, director - strategic communications, NASA Ames, and acting social media manager, NASA. Read about the award and the winner here. See video here.
Space Achievement Award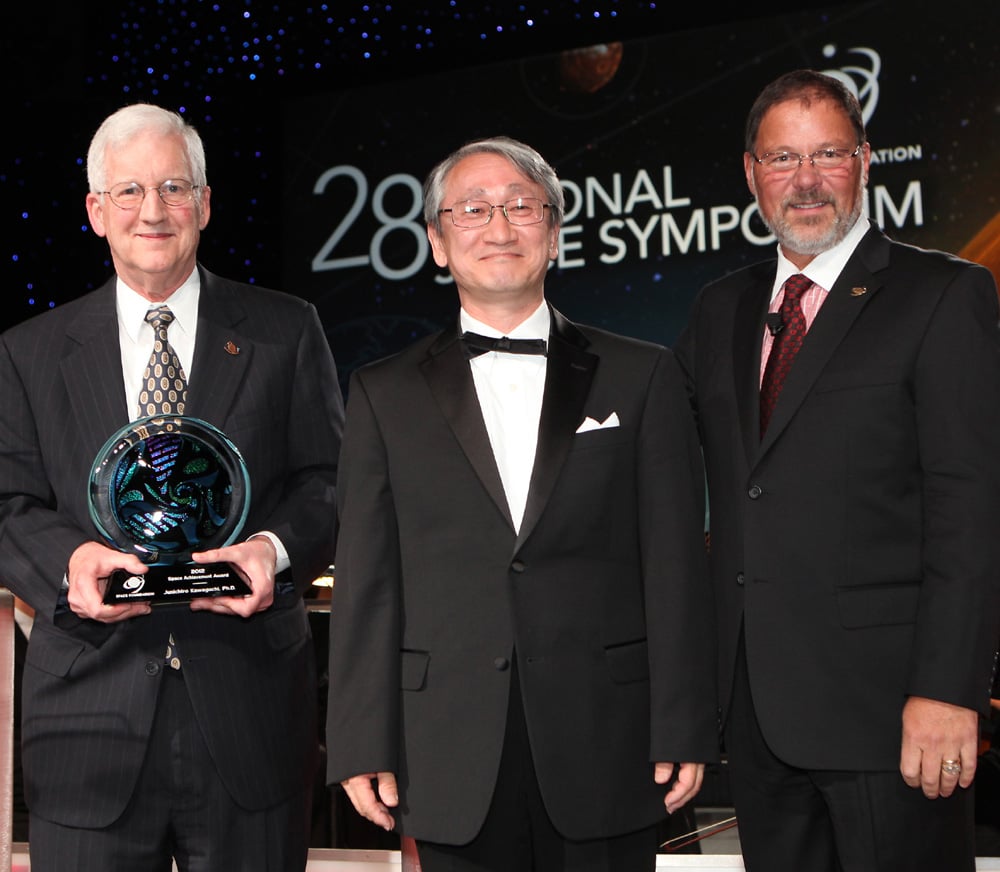 The 2012 award, which honors significant advancement in space science, process or programs, went to Dr. Junichiro Kawaguchi, Senior Fellow at Japan Aerospace Exploration Agency (JAXA) and former program director of the Lunar & Planetary Exploration Program Group for the Japan Aerospace Exploration Agency (JAXA). He was recognized for his engagement in planetary robotic exploration, science and technology since the late 1970s, including development and advancement of a series of orbital maneuvering technologies applied to planetary missions, restoring JAXA's Martian space probe Nozomi by devising an alternative trajectory using double Earth swingbys and serving as project manager on the Hayabusa project, the world's first sample-and-return mission from an asteroid, accomplished in 2010. Pictured: Faga, Kawaguchi and Pulham. Read about the award and the winner here. See video here.
John L. "Jack" Swigert, Jr., Award for Space Exploration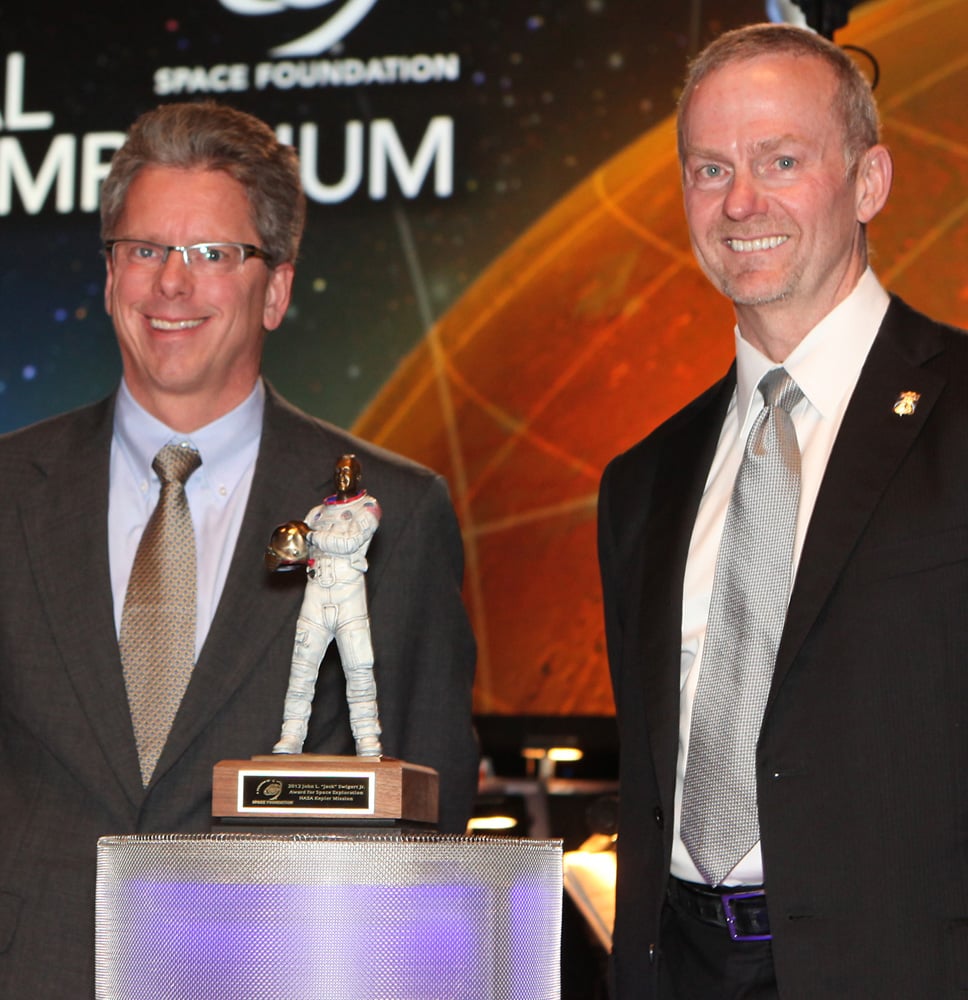 The award honors astronaut Jack Swigert of Apollo 13 fame and goes to an individual or organization for significant progress or discoveries in space exploration. The 2012 winner is the NASA Kepler Mission, which discovered 61 confirmed extrasolar planets and over 2,300 planet candidates in the first 16 months of observations from May 2009 to September 2010. In addition, the Mission has discovered the first unquestionably rocky planet (Kepler-10b), the first six-planet system (Kepler-11), the first small planet in the habitable zone (Kepler-22b), the first Earth-size planet discoveries (Kepler-20e&f), the smallest exoplanets ever detected (KOI-961.01, KOI-961.02, KOI-961.03) and three worlds (Kepler-16b, Kepler-34b, Kepler-35b) that orbit around two stars, establishing a new class of planetary system. As a special treat for the recipients - and the audience - famed astrophysicist Dr. Neil deGrasse Tyson helped present the award. Pictured: John Troeltzsch, Kepler program manager, Ball Aerospace; and Roger Hunter, Kepler project manager, NASA Ames Research Center. Read about the award and the winner here. See video here.
Corporate Host Joanne M. Maguire, executive vice president, Lockheed Martin Space Systems Company, closed the evening with a welcome and overview of a successful year in space.
See photos here.
This article is part of Space Watch: May 2012 (Volume: 11, Issue: 5).
---
Posted in Spotlight