Space Awareness
---
Why We Love the Internet
Written by: developer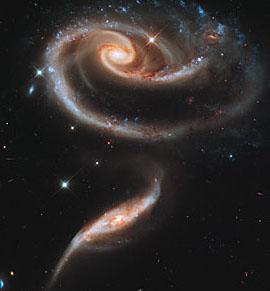 We love the multitude of amazing space information and photos on the Internet!
Keep up-to-date with lots of space information on The Planetary Society's new website.
See a robotic cargo vehicle docking with the International Space Station here.
See the Top 100 Hubble Photos here.
And a few of the Best Space Photos from SPACE.com here.
This is simply fascinating.
Pictured: A pair of interacting galaxies captured by Hubble
This article is part of Space Watch: May 2012 (Volume: 11, Issue: 5).
---
Posted in Space Awareness