Space Foundation News
---
Space Foundation Meteorology Class Visits KRDO-TV
Written by: developer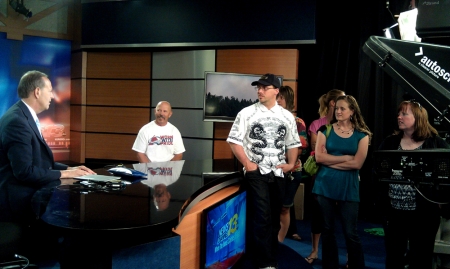 Teachers participating in this week's Space Foundation Space Across the Curriculum professional development course, Meteorology and Space Weather, visited KRDO-TV, the southern Colorado ABC affiliate, yesterday to see how weather forecasts are incorporated into the evening news broadcast.
The Space Foundation course helps teachers examine the different areas of meteorology and learn how to teach them in the classroom.
A special treat on Tuesday was a presentation by Matt Meister, KRDO chief meteorologist. Today, the class is visiting the National Oceanic and Atmospheric Administration (NOAA) in Boulder, Colo.
Space Foundation education programs are based at the Space Foundation Discovery Institute, which houses a Mars Yard and Robotics Lab, the AGI Space Missions Simulator and NASA Educator Resource Center.
Openings are still available in other Space Foundation Space Across the Curriculum courses this summer and scholarships are available.
Although the underlying focus is on science, technology, engineering and mathematics (STEM), the courses are structured to adapt lessons to all grade levels and all curriculum areas. Participants do NOT need to be science or math teachers. Public, private and homeschool teachers from around the globe are welcome.
See more details on the remaining courses at www.spacefoundation.org/education/programs/space-across-curriculum-courses-prek-12-teachers.
Pictured: Space Across the Curriculum Meteorology and Space Weather students watch KRDO News Anchor Eric Singer prepare to present the evening news on KRDO-TV.
---
Posted in Space Foundation News