Space Foundation Press Releases
---
Astronaut Sally Ride Dies
Written by: developer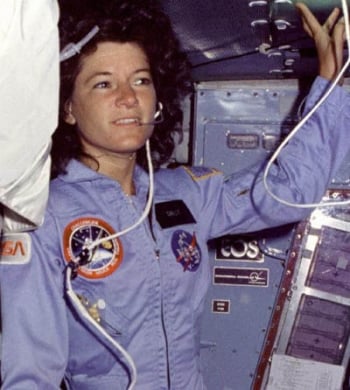 COLORADO SPRINGS, Colo., (July 23, 2012) — Astronaut Sally Ride, Ph.D., died today at the age of 61 after a 17 month battle with pancreatic cancer.
As the first American woman to fly in space and as President and CEO of Sally Ride Science, she was a special inspiration to girls and young women around the world.
"The space community, teachers and students around the world have lost a great friend and role model," said Space Foundation CEO Elliot Pulham. "Sally was more than a trailblazing astronaut and brilliant scientist. She was deeply concerned about the state of education in the United States, and worked tirelessly to reach students, especially at-risk young women, with programs filled with hope and inspiration — to enable our next generation of explorers. Whether on board a space shuttle, inside a corporate board room, or with students at one of her Sally Ride Science events, she was a motivational and inspiring leader," said Pulham. "She was a friend to all explorers, and she will be deeply missed."
Ride joined NASA in 1978 and in 1983 she became the first American woman in space as a crew member on Space Shuttle Challenger for STS-7. At 32 years old, she was also the youngest American space traveler at the time.
Ride had a number of "firsts" and "onlies" in her career. On STS-7, she was the first woman to use the robot arm in space and the first to use the arm to retrieve a satellite. She was the only person to have served on the Commissions investigating both the Space Shuttle Challenger and Columbia accidents.
Ride was author of five science books for children and initiated projects designed to inspire middle school students' fascination with science.
See more about her work at www.sallyridescience.com/.
About the Space Foundation
The foremost advocate for all sectors of the space industry and an expert in all aspects of space, the Space Foundation is a global, nonprofit leader in space awareness activities, educational programs that bring space into the classroom and major industry events, including the National Space Symposium, all in support of its mission "to advance space-related endeavors to inspire, enable and propel humanity." The Space Foundation publishes The Space Report: The Authoritative Guide to Global Space Activity and provides three indexes that track daily performance of the space industry. Through its Space Certification and Space Technology Hall of Fame® programs, the Space Foundation recognizes space-based technologies and innovations that have been adapted to improve life on Earth. Founded in 1983 and headquartered in Colorado Springs, the Space Foundation conducts research and analysis and government affairs activities from its Washington, D.C., office and has a field office in Houston, Texas. For more information visit www.SpaceFoundation.org. Follow us on Facebook, LinkedIn and Twitter, and read about the latest space news and Space Foundation activities in Space Watch.
# # #
---
Posted in Space Foundation Press Releases