Space Foundation Press Releases
---
Volunteer to be a Docent for the Space Foundation Visitors Center in Colorado Springs
Written by: developer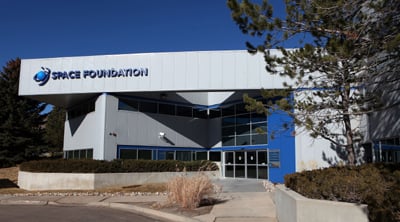 COLORADO SPRINGS, Colo. (July 25, 2012) — The Space Foundation is seeking volunteers to serve as docents, greeters or operational supporters for its Visitors Center, which will open to the public this fall.
Volunteers may work as little as two four-hour shifts per month, or as often as four full days a week, assisting visitors, answering questions and providing information in the Visitors Center's two main areas — the Northrop Grumman Science Center and the El Pomar Space Gallery.
Training begins in August, so potential volunteers are encouraged to apply now.
To volunteer, or for more information, contact Space Foundation Volunteer Coordinator Jennifer Picard at [email protected], +1.719.576-8000. Or apply online at www.spacefoundation.org/donate/volunteer.
The Northrop Grumman Science Center, which includes a Science On a Sphere®, and the El Pomar Space Gallery, which features space artifacts and exhibits, comprises the initial phase of the Space Foundation Visitors Center. Both are located at the Space Foundation world headquarters at 4425 Arrowswest Dr., near Garden of the Gods in Colorado Springs.
The El Pomar Space Gallery exhibit, Launch to the Moon, focuses on U.S. and Soviet lunar exploration, providing an interesting look at both history and the cultural dynamics of the early "race to the Moon."
Volunteer Positions Available
Docent – answer questions and help visitors discover the vast array of information available on the Science On a Sphere® and in the El Pomar Space Gallery. No previous experience as a docent, or special knowledge of space, is required. The Space Foundation will provide all training and support.
Reception Desk – will welcome public and private tours, classroom groups, invited guests and the public.
Light Security – anyone who would like to volunteer but is not comfortable speaking to groups may assist in operational support by providing light security services, helping to manage large class tours, handling admissions or assisting with other projects.
About the Space Foundation
The foremost advocate for all sectors of the space industry and an expert in all aspects of space, the Space Foundation is a global, nonprofit leader in space awareness activities, educational programs that bring space into the classroom and major industry events, including the National Space Symposium, all in support of its mission "to advance space-related endeavors to inspire, enable and propel humanity." The Space Foundation publishes The Space Report: The Authoritative Guide to Global Space Activity and provides three indexes that track daily performance of the space industry. Through its Space Certification and Space Technology Hall of Fame® programs, the Space Foundation recognizes space-based technologies and innovations that have been adapted to improve life on Earth. Founded in 1983 and headquartered in Colorado Springs, the Space Foundation conducts research and analysis and government affairs activities from its Washington, D.C., office and has a field office in Houston, Texas. For more information visit www.SpaceFoundation.org. Follow us on Facebook, LinkedIn and Twitter, and read about the latest space news and Space Foundation activities in Space Watch.
# # #
---
Posted in Space Foundation Press Releases