Space Foundation News
---
Wonders of the Universe "Soft Openings" at Northrop Grumman Science Center Continue
Written by: developer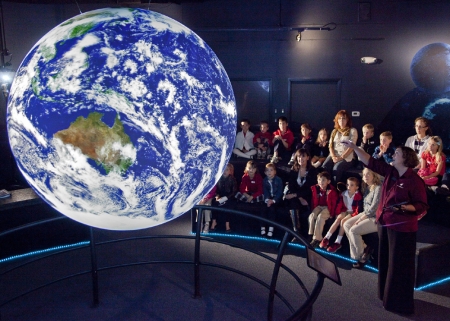 This week, more students participated in sessions at the Space Foundation's Northrop Grumman Science Center, featuring Science On a Sphere®, testing our new Wonders of the Universe courses for PreK-12th grade students.
In all, approximately 350 students from 11 Colorado schools are participating in "soft opening" sessions of the standards-based courses that use our Science On a Sphere (SOS) to teach a wide variety of subjects, including science, technology, engineering and mathematics (STEM) as well as social studies, history and government and other classroom content areas. Developed by the Space Foundation and taught by accredited Space Foundation instructors, the classes include both SOS lecture/demonstrations and hands-on learning activities. The courses, which combine SOS demonstrations with lectures and hands-on activities, are being rigorously evaluated to ensure that the content meets Colorado and national education standards and that teaching methods are effective.
SOS, the centerpiece of the Northrop Grumman Science Center, was developed by the National Oceanic and Atmospheric Administration (NOAA). The world's first dynamic spherical movie screen, SOS uses special software, satellite imagery and four projectors to render images onto the global surface that provide dramatic views of the Earth, Sun, moons and planets in space.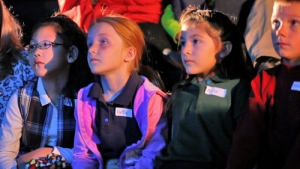 The classes will be available to individual classroom teachers, school districts and other educational institutions, including public and private schools, colleges and universities offering education curriculum; and home school organizations. Lab fees are variable, depending upon the complexity of the program, location and number of students involved.
For information about scheduling a Wonders of the Universe class at the Northrop Grumman Science Center, email [email protected].
To learn more about the Northrop Grumman Science Center and the Space Foundation Visitors Center, click here.
---
Posted in Space Foundation News