Space Foundation News
---
Space Foundation Plays Major Role in AMOS Conference
Written by: developer
In September, the Space Foundation participated in a number of programs at the 13th annual Advanced Maui Optical and Space Surveillance Technologies (AMOS) Conference in Maui, Hawai'i. Involvement included co-sponsorship of a forum on space situational awareness, a panel on technology, a reception for young space professionals and education programs for teachers and students. The conference is a program of the Maui Economic Development Board, Inc. (MEDB).
Technology Panel Features Space Foundation's Chiao, Cook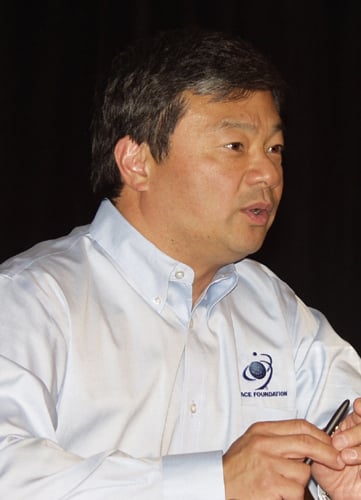 Kevin Cook, Space Foundation director – space awareness programs, moderated the panel, The Impact of Space Technology Transfer & Commercialization. Panelists included:
Dr. Leroy Chiao, former NASA astronaut and Space Foundation special advisor – human spaceflight (pictured, left)
David Deigan, founder, president & CEO, AFMInc
Dr. Patrick K. Sullivan, chairman and founder, Oceanit
Cook directs two Space Foundation space awareness programs that focus on the adaptation of space innovations to benefit society: Space CertificationTM and the Space Technology Hall of Fame®. AFMInc's thermal reflective products, HEATSHEETS® and Thermoflect, are both certified by the Space Foundation. Oceanit is one of Hawai'i's largest and most diversified science and engineering companies.
300 Students, 35 Teachers Benefit from Education Programs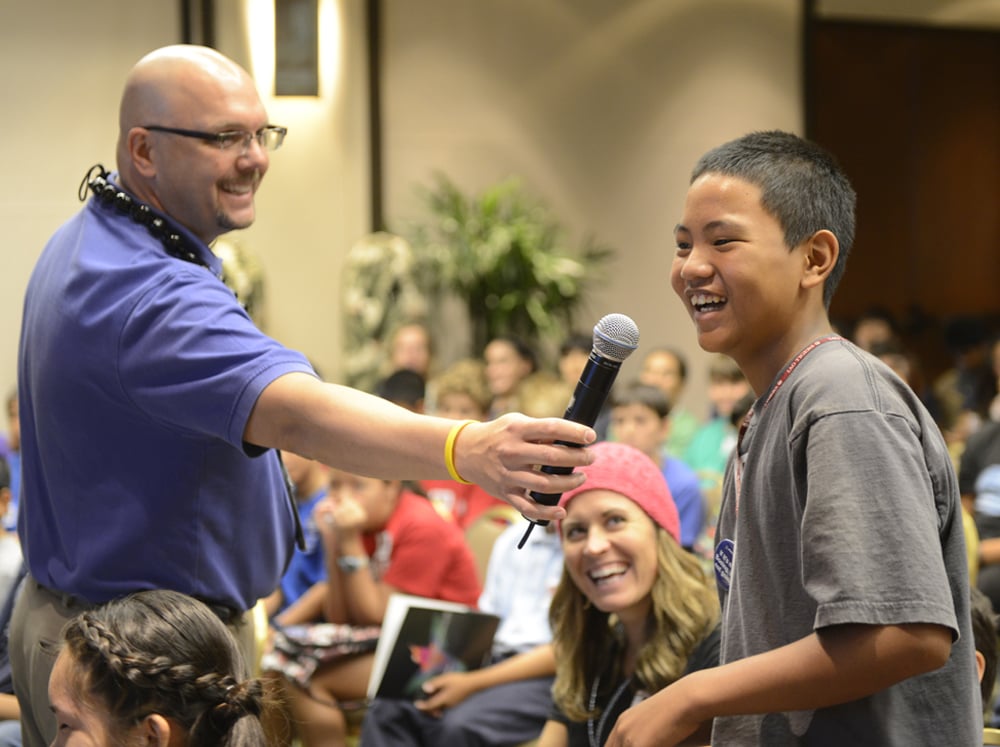 As part of its extensive education programs that inspire students and teachers by improving science, technology, engineering and mathematics (STEM) skills, the Space Foundation conducted sessions for school children and a Space in the Classroom workshop for teachers from the Maui area.
There was a fantastic turnout for the education events, with 300 students from every middle school on the island attending the Audience with an Astronaut session with Dr. Leory Chiao.
Educator activities included a workshop day, with 35 teachers attending this year. Chiao paid a surprise visit to the group to start the day, which proceeded with a series of Kinesthetic Astronomy activities, a tour of the exhibit center, presentations and a 3D constellation activity. Pictured, right, Space Foundation Director – Education Bryan DeBates fields a question from a student.
The student day was co-sponsored by the Space Foundation and MEDB in association with AFRL, Analytic Graphics, Inc. (AGI), The Boeing Company, University of Hawai'i Institute for Astronomy (IfA), Lockheed Martin, Maui High Performance Computing Center (MHPCC), Northrop Grumman, Orbital Sciences Corporation and Pacific Defense Solutions (PDS). The teacher workshop was co-sponsored by the Space Foundation and MEDB. The conference hotel, Wailea Beach Marriott Resort & Spa, donated the lunches, and Presentation Services Audio Visual donated AV equipment for the education programs.
New Generation Reception Gives Young Professionals a Chance to Network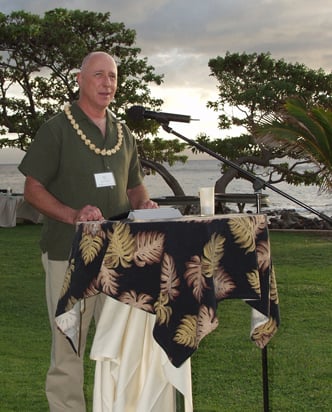 A popular annual AMOS event is the Space Foundation Pau Hana (after work) Networking Reception for New Generation Space Leaders, age 35 or younger, co-sponsored by MEDB.
The event was part of the Space Foundation's New Generation Initiatives, which provides professional development and networking opportunities to college students and professionals aged 35 and under.
Pictured, left, Space Foundation Director – Space Awareness Programs Kevin Cook welcomes guests to the Pau Hana Networking Reception for New Generation Space Leaders.
Space Foundation Co-Sponsors New Space Situational Awareness Forum
The prototype pre-conference Space Situational Awareness (SSA) forum was successful, with about 240 people attending the welcome comments by Jeanne Skog, president of MEDB. The forum included three separate sessions with senior government and industry participants.
About the AMOS Conference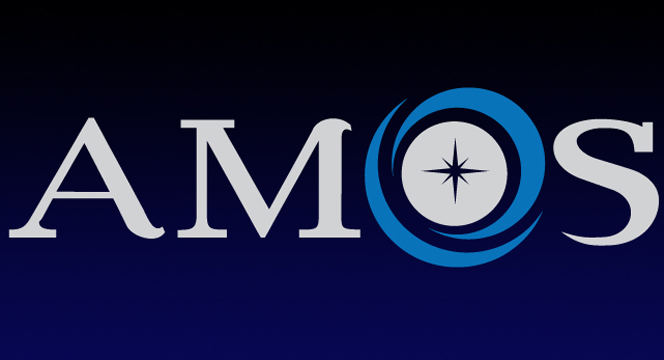 The AMOS Conference, lauded by Air Force Space Command Commander Gen. William Shelton, USAF as the "premier technical gathering related to space situational awareness in the world," brings together operators, researchers, technologists and system developers who are working in many areas of SSA.
The conference has proven to be a valuable forum for advancing research and development efforts in support of space warfighting technologies. Participants are drawn from Department of Defense organizations, other branches of government, academia, industry and international organizations. The AMOS Conference is a program of the MEDB, a nonprofit corporation established in 1982 to focus on diversifying Maui's economy. MEDB's mission involves taking innovative actions that strengthen existing industry as well as diversifying through new opportunities. For more information, go to www.amostech.com.
See more photos here.
This article is part of Space Watch: October 2012 (Volume: 11, Issue: 10).
---
Posted in Space Foundation News