Spotlight
---
TCA Holds Education Event at Space Foundation
Written by: developer
On Nov. 30, The Classical Academy (TCA), a charter school based in Colorado Springs, hosted "SPACE 2012 … follow your Curiosity!" at the Space Foundation's world headquarters, also in Colorado Springs. The event delivered on its promise to inspire a lifelong love of learning, which is one of TCA's primary objectives.
Organized by the TCA Central Elementary Friends of the Library, the event was a group endeavor, incorporating input and support from a variety of community partners including the Space Foundation, Lockheed Martin's Mars Odyssey Spacecraft Operations, KRDO NewsChannel 13 (ABC), the U.S. Air Force 3rd Space Operations Squadron at Schriever AFB, U.S. Air Force Academy instructor and former NASA astronaut Col. Jim Dutton, USAF, and the Star Wars 501st Legion, Mountain Garrison, Pikes Peak Squad.
More than 450 people, comprising more than 140 TCA families and approximately 35 special guests from the TCA board and administration and members of the science faculty from all three TCA campuses, attended. There were also more than 75 volunteers from the school and area communities who helped during this four hour event.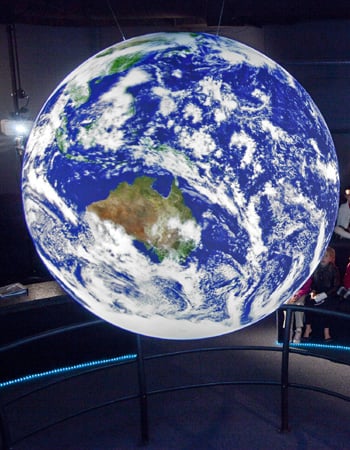 Many of the activities, all of which were coordinated and managed by TCA parents, were supported by the Space Foundation:
Science On a Sphere® (pictured right) demonstration in the Space Foundation's Northrop Grumman Science Center
"Launch to the Moon" exhibit and artifacts tours in the Space Foundation's El Pomar Space Gallery
Can you Find It? "Launch to the Moon" scavenger hunt
Create an Alien game
Astronaut Training: Glovebox activities
Family Mission Patch activity
3, 2, 1… PUFF: Ares straw rocket activity
Origami activities
Solar System bookmark activity
Estimation station activities
Other activities included:
"Meet and Greet" with NASA Astronaut and Space Shuttle STS-131 Pilot Col. Jim Dutton, USAF
"Colorado's Connection to the Planets," a presentation by John Balke, senior systems engineer for Mars Odyssey Spacecraft Operations at Lockheed Martin about Odyssey's support of the Curiosity mars rover
Satellite demonstrations acted out by students and construction of paper models run by volunteers from 3rd Space Squadron from Schriever AFB
TCA sought to fuel the passion for learning in both students and parents – from the reactions of the attendees it appears that the mission was accomplished.
This article is part of Space Watch: December 2012 (Volume: 11, Issue: 12).
---
Posted in Spotlight