Space Foundation Press Releases
---
NASA Administrator Featured at 29th National Space Symposium
Written by: developer
COLORADO SPRINGS, Colo. (Jan. 30, 2013) – NASA Administrator Charles F. Bolden, Jr., will return to the Space Foundation's annual Space Symposium in 2013 to discuss challenges and opportunities facing his agency's future.
This year's 29th National Space Symposium is expected to attract 9,000 participants to The Broadmoor Hotel in Colorado Springs, April 8-11. The Space Symposium is known for its top-level speakers and global participation, and Bolden's presentation promises to be one of the highlights of the event.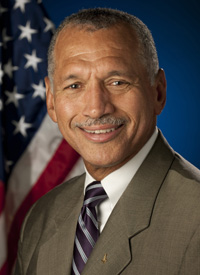 About Bolden
Bolden's 34-year Marine Corps career included 14 years with NASA's Astronaut Office, both as an astronaut and in a number of technical assignments, including overseeing safety efforts for the return to flight after the 1986 Challenger accident; serving as lead astronaut for vehicle test and checkout at the Kennedy Space Center and serving as assistant deputy administrator at NASA headquarters. Between 1986 and 1994, Bolden flew four Space Shuttle missions, commanding two. His flights included deployment of the Hubble Space Telescope and the first joint U.S.-Russian shuttle mission.
A graduate of the U.S. Naval Academy, Bolden flew more than 100 combat missions over North and South Vietnam, Laos and Cambodia while stationed in Thailand from 1972-1973. During his career, he served as deputy commandant at the U.S. Naval Academy; deputy commanding general of the 1st Marine Expeditionary Force in the Pacific; and commanding general of the 1st Marine Expeditionary Force Forward in support of Operation Desert Thunder in Kuwait. He was promoted to major general in 1998 and named deputy commander of U.S. Forces in Japan. He served as commanding general of the 3rd Marine Aircraft Wing at Marine Corps Air Station Miramar in San Diego, Calif., before retiring from the Marine Corps in 2003.
Prior to becoming NASA Administrator, Bolden was chief executive officer of JACKandPANTHER LLC, a leadership, military and aerospace consulting firm.
Bolden holds a masters degree in systems management from the University of Southern California and is a graduate of the Naval Test Pilot School. His many military decorations include the Defense Superior Service Medal and the Distinguished Flying Cross. He was inducted into the U.S. Astronaut Hall of Fame in May 2006.
About the Space Symposium
The Space Symposium offers presentations covering all aspects of space. For details about speakers, panels and agenda, visit www.NationalSpaceSymposium.org/.
The Space Symposium is offered in conjunction with the one-day Cyber 1.3 conference, which examines issues related to cyberspace. Separate registration is required for Cyber 1.3 and secure online registration for both is available online now at www.NationalSpaceSymposium.org.
An Early Bird Discount rate is in effect until March 15 for standard industry Space Symposium registration. The registration rate for active duty military and government personnel has been lowered to 2010 pricing, now $790 for the four-day Symposium.
Cyber 1.3 and 29th National Space Symposium Co-Sponsors
Confirmed co-sponsors include: a.i. solutions; Aeroflex; Aerojet; Arianespace, Inc.; Avionics Intelligence; Ball Aerospace & Technologies Corp.; Barrios Technology; Blue Ridge Networks; Booz Allen Hamilton; Colorado Springs Convention & Visitors Bureau; General Dynamics; Global Technology Resources Inc. (GTRI); EADS North America; Fluor; GMV USA; Government Executive Media Group; Intelsat General Corporation; Lockheed Martin; Maui Economic Development Board (MEBD); Millennium Engineering and Integration Co.; Moog; Müller-BBM VibroAkustik Systeme, Inc; Northrop Grumman; Pratt & Whitney Rocketdyne; Raytheon; SAIC; Secure World Foundation; SES Government Solutions; Space Systems/Loral; SpaceX; Spincraft; Stellar Solutions; The Boeing Company; United Launch Alliance. Official media partners include Aviation Week, SatNews Publishers and Space News. For questions about sponsorship, email [email protected].
About the Space Foundation
The foremost advocate for all sectors of the space industry and an expert in all aspects of space, the Space Foundation is a global, nonprofit leader in space awareness activities, educational programs that bring space into the classroom and major industry events, including the National Space Symposium, all in support of its mission "to advance space-related endeavors to inspire, enable and propel humanity." The Space Foundation publishes The Space Report: The Authoritative Guide to Global Space Activity and provides three indexes that track daily U.S. stock market performance of the space industry. Through its Space Certification™ and Space Technology Hall of Fame® programs, the Space Foundation recognizes space-based technologies and innovations that have been adapted to improve life on Earth. The Space Foundation was founded in 1983 and is based in Colorado Springs, Colo. Its world headquarters features a public Visitors Center with two main areas – the El Pomar Space Gallery and the Northrop Grumman Science Center featuring Science On a Sphere®. The Space Foundation also conducts research and analysis and government affairs activities from its Washington, D.C., office and has a field office in Houston, Texas. For more information, visit www.SpaceFoundation.org. Follow us on Facebook, LinkedIn and Twitter, and read about the latest space news and Space Foundation activities in Space Watch.
# # #
---
Posted in Space Foundation Press Releases