Stats, Facts and Papers
---
Have You Read PIONEERING?
Written by: developer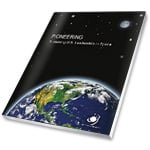 Have you read the Space Foundation's PIONEERING: Sustaining U.S. Leadership in Space yet? If not, download a copy here and then tell us what you think. We would love to hear your views on the future of NASA and how to improve and sustain space leadership. Email your comments to [email protected] – and make sure to let us know if we can publish your thoughts to keep the conversation going.
See media reports here.
This article is part of Space Watch: February 2013 (Volume: 12, Issue: 2).
---
Posted in Stats, Facts and Papers