Education
---
New Horizons Slated for Alaska
Written by: developer
The Space Foundation has once again secured a contract to present a New Horizons education and public outreach program to the communities in and around Fairbanks, Alaska. For the second year in a row, Space Foundation Teacher Liaison Marci Ward has spearheaded a community fundraising campaign to make the outreach possible. The funding will cover the cost of labor, material, and travel for four Space Foundation team members to visit Fairbanks Feb. 9-17. Ward is a third-grade teacher at Fairbank's Immaculate Conception School.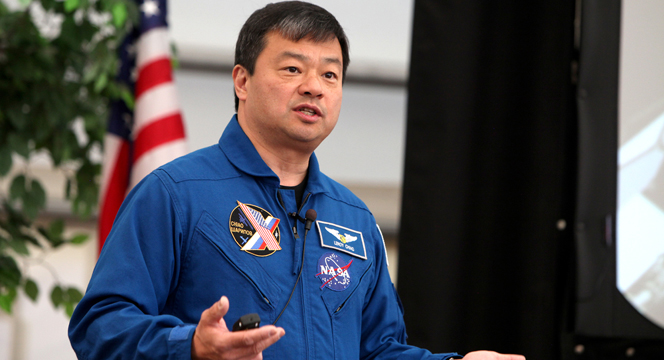 The highlight of the New Horizons program will be a series of Audience with an Astronaut presentations for students and the public by Space Foundation Special Adviser - Human Spaceflight Leroy Chiao, Ph.D., (picture, left); as a NASA astronaut, Chiao flew on three Space Shuttle flights, and was commander of Expedition 10, flying for six months onboard the International Space Station.
The Space Foundation team will also present:
PreK-12 in-school education programs
A daylong Space Across the Curriculum Workshop for teachers
Media appearances
Community events
The lead sponsors for this New Horizons event are Pogo Mine and the Fairbanks North Star Borough School District.
Additional sponsors include the Chena Kiwanis Club, Denali State Bank, the Fairbanks Economic Development Corp., the Fairbanks Kiwanis Club, Fountainhead Development, Inc., Fort Knox Gold Mine, Alpha Delta Kappa Sorority, Judy and Johne Binkley, Mary Binkley and Grace Minder.
Additional sponsorships are available; interested individuals and organizations should contact [email protected].
Read more about the event in next month's Space Watch.
The Space Foundation education team will fly to Fairbanks from Houston, after attending the three-day 19th Annual Space Exploration Educators Conference at Johnson Space Center.
This article is part of Space Watch: February 2013 (Volume: 12, Issue: 2).
---
Posted in Education